Raghava KK: Five lives of an artist
Susan notes: Thanks to TED for making TED Talks downloadable and embeddable, and for providing the biographical information that goes along with them.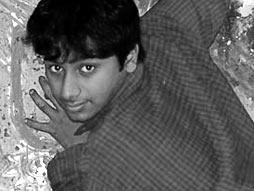 With endearing honesty and vulnerability, Raghava KK tells the colorful tale of how art has taken his life to new places, and how life experiences in turn have driven his multiple reincarnations as an artist -- from cartoonist to painter, media darling to social outcast, and son to father.

Raghava KK began his career in art as a newspaper cartoonist, and the cartoonist's bold line -- and dead-on eye for truth -- still powers his art. His work spans painting, sculpture, installation, film and performance, always linked by his challenging opinions on identity, conformity, gender, celebrity, ceremony. (He even views his lavish Indian wedding as a piece of performance art.)
His early work as a painter made a complete break with his cartoon career -- he painted watercolors on canvas using only his hands and feet. Since then, his work has grown to knit together aesthetics from both worlds, as collage and complication play against flat color and precise lines. He shows in galleries and performance spaces around the world. Among his latest work is the adorable children's book A New Friend for Rudra -- see it in his Flickr set.
Related Articles