Rachelle Garniez Plays "La Vie en Rose" With Thomas Dolby
Susan notes: Thanks to TED for making TED Talks downloadable and embeddable, and for providing the biographical information that goes along with them.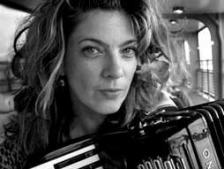 Featuring the vocals and mischievous bell-playing of accordionist and singer Rachelle Garniez, the TED House Band -- led by Thomas Dolby on keyboard -- delivers this delightful rendition of the Edith Piaf standard "La Vie en Rose."
Born in New York City, Rachelle Garniez is a performer, singer, songwriter, producer and multi-instrumentalist.
Hailed by the New York Press as "one of the greatest songwriters of our time", described by the New Yorker as "a certified free spirit with a rich voice and a wild imagination", and featured in Paper magazine's annual "Beautiful People 2008" issue; Garniez's adventures began as a street musician in Europe and a fixture in the art scene of 1980's New York City.
TED Music Director Thomas Dolby has always blurred the lines between composition and invention. As a London teenager, Tom Robertson was fascinated with the convergence of music and technology. His experiments with an assortment of keyboards, synthesizers and cassette players led his friends to dub him "Dolby."
Related Articles