Priya Ganesan Speaks About Creativity in School
Susan notes: Thanks to TED for making TED Talks downloadable and embeddable, and for providing the biographical information that goes along with them.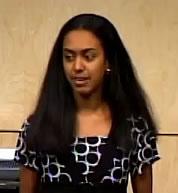 TEDxRedmond is "by kids, for kids" with a theme of "Power to the Students."

With over four hundred youth attendees watching in the all-youth theater, this was one of the largest TEDx events entirely for youth.

Organized by an all-youth committee headed by former TED speaker Adora Svitak, TEDxRedmond focused on issues (like education) pertaining to youth as well as adults.
Priya Ganesan is a teenage poet, book reviewer, and blogger. Her literary commentary and writing can be found at her blog, Book Crumbs, or her website, www.priyaganesan.com.

Related Articles