Parisa Hafezi Reports From Iran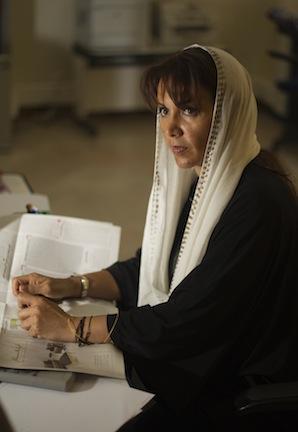 By Tabby Biddle; originally posted on the Huffington Post
The International Women's Media Foundation recently honored four brave women journalists who risked their lives to cover news in their countries.
"These courageous women have endured terrible hardships, without questioning their own safety," said IWMF Board Co-Chair Barbara Cochran.
"We are honored to tell the world their stories."What follows is my interview with Parisa Hafezi, bureau chief for Reuters in Iran, who is being honored for her courage to report on the violent protests in Iran after the 2009 election.
After the election, riot police armed with electric batons attacked Parisa as she struggled to cover the bloodshed and chaos on the streets of Tehran. "We had to be strong and take the risks to report the stories," says Parisa.
Parisa has endured beatings, interrogations, harrassment and raids on her office and home to cover the the opposition movement against the Iranian regime. Despite the hazards that have threatened her life and the life of her family, she has fought efforts to censor reporting and has battled against tough restrictions on women in the media. While many local and foreign journalists fled the country after the disputed 2009 elections, Parisa stayed.
Today Parisa Hafezi is the only female and only non-Western Reuters bureau chief in the Middle East.
Tabby Biddle: You have endured violent attacks, beatings, harassment, interrogations and detainment to report the news in your country. What inspires you to keep enduring these hardships?
Parisa Hafezi: As a woman, I think I have a part in this fight and I shall continue it for the future of my daughters. I want to pave the ground for them, for their future. Also, I'm doing my job. I'm a reporter, and I have to continue reporting no matter what the dangers are because these are a part of my job.
TB: You are the only female and the only non-Western Reuters bureau chief in the Middle East. What does this mean to you and what do you think it means to other women in the Middle East?
PH: After I got the position, I received many messages from my female colleagues in the region that said, "Now it shows that we can do this too. We will work harder. We will continue this path to pave the ground."
I think it shows that if we work hard and we fight correctly, we can achieve there. We can become one of the decision makers. We can run a bureau in an Islamic male-dominated country. It shows that in a bureau in which all of your colleagues are men, you can get the respect. You can show them that a woman can do the job.
I think this is good because it shows my girls and other female journalists working for Iranian media that they can do it. The fact that you are a woman doesn't mean that you are weaker. It doesn't mean that you can't be a manager. It doesn't mean that you can't work like others. I'm not saying like a man, because I have never compared myself to a man.
TB: As I understand it, there are tough restrictions on women in the media in Iran. What have you noticed and experienced as the differences between what male journalists and female journalists face in their jobs?
PH: In Iran we have many female journalists working for Iranian media, and they are very good. They are young, very enthusiastic, very motivated. But the problem is... let's just start with shaking hands. When you see someone, the first thing that you do is shake hands to establish contact. As a woman, you cannot do that in Iran. It's forbidden. And then when you're meeting with an official, you have to take care of your head scarf because if anything happens, you will lose your press card. So, these are the basic things. But there are other issues that are more important.
As a female journalist you have to work hard to be recognized because culturally they consider you a second-class citizen.
When our office was raided after the 2009 election, these people came into the office and said: "Whose in charge?" Everyone in the office said: "She is." They looked at me and said: "You're the bureau chief?" It was kind of a humiliation, but it's funny at the same time. You have to work double to show them that you exist. And you have to work harder to show that you are a good journalist.
We are in a country where your husband can ban you from leaving the house or from leaving the country. So imagine if you are a journalist and you have to travel to cover stories, and your husband bans you from leaving the country. Also, as a woman, you think about rape. Men journalists never think about that, or think about it less than I do. So these are the issues that hinder our work.
TB: What initially drew you to being a journalist?
PH: I didn't decide to become a journalist. I am an engineer. I went back to Iran after finishing my university and I looked for a job in my own field as an engineer. But I couldn't find one. They told me that I could be a secretary in one of the factories. I said, "No thank you. I want to work in my own field."
A friend of my parents knew someone who wanted a journalist for a Turkish news agency. I speak Turkish, so I started as a journalist there. I had no clue about politics, or about newspapers. I didn't know why people read newspapers. Then in two years time, I really loved my job.
TB: Have you ever thought of leaving or backing down with all that you have endured? Has that thought ever crossed your mind?
PH: Never, ever. I love my job. I'm creating a difference. I'm doing something. As a female journalist in my country, it feels good that I can help young, less experienced journalists. This is the thing that I didn't have years ago when I became a journalist. It feels good to help them.
My mom sometimes says, "Find yourself another job. Think about your kids." I think first of all I don't know any other job... I can't do any other job. Secondly, despite all the pressures and the difficulty, not only from the Iranian government but from my male colleagues, I love my job.
TB: How many daughters do you have?
PH: I have two daughters. One is 16 and one is 12. I wish they could be here with me, but my ex-husband banned them from leaving the country.
TB: Do you think either of them have aspirations to be a journalist?
PH: Because I'm not like other mothers who are at home a lot and get to spend quality time with them, sometimes they get upset. My youngest daughter has said to me: "Why aren't you like normal moms?" Then she sees her picture in a magazine or a story about me, and she becomes really happy. The oldest one was thinking about becoming a journalist, but I don't know. I'm really not a pushy mother who tells them what to do.
TB: The voices of women and girls are so needed around the world. What advice would you offer young women to encourage them to speak up and speak out about what they believe in -- whether as journalists or just as everyday citizens?
PH: Based on my own experience, I think that first of all they should become independent financially. Then they should choose a job that they like, and do it perfectly. Never ever should they compare themselves with men. They should try to improve their own skills. It's kind of to show that whatever a woman does, there's good in it and she can do it properly. Never should they be afraid of speaking loud.
I was in a situation years ago where I was under pressure and I was scared to talk about it. I was scared because of the culture, because of the environment, my family, my own perceptions, and I never talked about it. But later on I was fed up and I got divorced. I was thinking, "Why didn't I talk about it? It helps women. It could prevent someone from falling in the same trap, and making the same mistake." It's the only thing that I regret.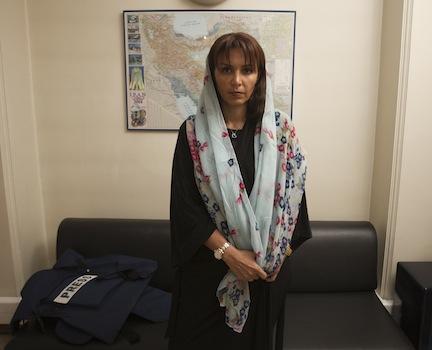 "Each women should speak out. We shouldn't be scared. We can change the culture, if we speak out and we speak loud," says Parisa.
TB: I can't stop thinking about your office being under constant surveillance and the fact that you've experienced several break-ins, and staffers are convinced that e-mails and telephone lines are bugged. What is it like living like this?
PH: It's difficult because we don't have privacy. But after awhile you kind of become numb and you get used to it. No matter what they think about you -- that you are a spy, or whatever -- you know that you are not. I know that I am doing my job. I'm not a spy. I'm not a political activist. I'm just doing my job. Then you become relaxed. You think, "Okay, whoever wants to listen, let them listen. Let them watch me. Let them control my telephones, my house, whatever. I'm not doing anything wrong."
TB: What does it mean to you to receive this Courage in Journalism Award?
PH: I am very honored first of all. I have won other awards, but this one particularly made me so happy because I feel this is not only for me. It's for Iranian women. As women in the Middle East, we are under more pressure compared to other countries. It helps all of us because our work is being acknowledged. It gives me more motivation to work.
Many of my colleagues -- male and female -- fled the country after the elections because of the pressure. Fleeing the country is the easiest way. This award shows that I made the correct decision by staying there. When you are not there, you can't correctly report what's happening.
TB: What kind of road ahead do you see for women and girls in Iran in terms of their personal empowerment, independence, and voice in their everyday lives?
PH: The life of women in Iran is not like what many people see from the outside. Sixty percent of university students are women. More and more they are working. We now have a working class of women, which we didn't have before the revolution. They learned after the revolution that they should become independent -- financially and culturally. Now they feel that they are equal to men, and sometimes they are even more powerful.
While there are some laws regarding women where there is discrimination, it doesn't mean that all men are using them. It's a cultural issue. But because there is a lack of legal support for women, it's obvious that women have to become independent, and more powerful because through that they can confront the law. They can also fight against men who want to pressure them.
I see a very good future for women and girls because they know that they should fight against discrimination, become independent and more educated -- and they are doing that.
TB: If you had a loudspeaker that could be heard by all women and girls in the Middle East, what message would you want to impart?
PH: Believe in yourself. Don't compare yourself to men. You are a human being, and you have rights. Never yield to pressure. That is my message.
The International Women's Media Foundation will host the 2011 Courage in Journalism Awards on Monday, October 24 at the Beverly Hills Hotel in Los Angeles, CA. Another ceremony will be held on Thursday, October 27 at the Waldorf-Astoria Hotel in New York, NY. Purchase tickets or become a sponsor here.
The International Women's Media Foundation is a non-profit organization whose mission is dedicated to strengthening the role of women in the news media worldwide as a means to further freedom of the press by building a network of female journalists, cultivating leaders, pioneering change, and honoring courage. Become a contributor here.
Photos courtesy of the International Women's Media Foundation.
Tabby Biddle is a blogger, writer, writing coach, and consultant dedicated to helping women changemakers get their message out. As an advocate for the feminine voice, she provides writing, coaching, and consulting services for women authors, women entrepreneurs, and organizations committed to empowering women and girls. Follow her on Twitter.