Pamela Crane (Water Mission Field Manager)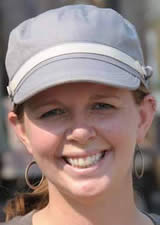 I was born in Kenya where my parents were Peace Corps volunteers, my pre-college life was largely spent in the Middle East and the South Pacific.
When I was ten years old, I lost 10 pounds in 10 days because I was incapable of keeping fluids in compliments of giardia, a diarrheal disease.
When I learned to camp on the Sinai, my family planned and packed every drop of water we would use. And so, I chose to fight for water.
I choose to do so because as a child it was a reality and I believed a place where I could make a difference.
My passion for safe water first took me through three degrees (BS in Environmental Biology from Taylor University, and a MS in Environmental Geology and a PhD in Water Resources both from the University of Notre Dame) and field academic research in Haiti and West Africa focused on water.
That is how I began to work alongside Africans – serving as a consultant and a friend rather than a leader or boss – something I continue to strive to do.
Now I fight for water through my work with Blood:Water Mission where I am the Africa Field Manager. We have amazing partners in Sub-Saharan Africa who address the water crisis through sustainable community development.
I help them build out their programs, challenging them towards excellence in community development through many long conversations and field visits. I capture their stories through words, photos, and video for our fundraisers and advocates who give generously of their time, effort, and money to make it all possible.
Beyond water and development, I love cooking for friends, drinking bottomless cups of chai, curling up with a book, capturing the moment through photos, visiting friends spread across the globe, sleeping in tents and hammocks, attempting to create that elusive thing called art, and spending as much time as possible swimming or SCUBA diving in the ocean.

My website, pamthenomad.com, is where I record my journey. Each step of my journey adds to my canvas of understanding - of water, of development, of Africa, of people and of places.
I find inspiration and hope in the most beautiful and surprising places - this the journey I share. My hope is that you join this journey, and are inspired onwards and outwards. Together we can make a difference.
Related links:
Pamela Crane on Changents
@pamthenomad