Ngozi Okonjo-Iweala (Financier)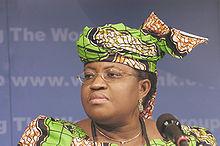 Ngozi Okonjo-Iweala (born June 13, 1954) was the former Finance Minister and Foreign Minister of Nigeria, notable for being the first woman to hold either of those positions.
She served as finance minister from July 2003 until her appointment as foreign minister in June 2006, and as foreign minister until her resignation in August 2006.
(See her speak here Ngozi Okonjo-Iweala On Doing Business In Africa)

Okonjo-Iweala was considered as a possible replacement for former World Bank President Paul Wolfowitz. On October 4 2007 she was appointed as Managing Director of the World Bank by World Bank President Robert Zoellick.

Prior to her ministerial career in Nigeria, Okonjo-Iweala was vice-president and corporate secretary of the World Bank Group. She left it in 2003 after she was appointed to President Obasanjo's cabinet as Finance Minister on 15 July.In October 2005, she led the Nigerian team that struck a deal with the Paris Club, a group of bilateral creditors, to pay a portion of Nigeria's external debt (US $12 billion) in return for an $18 billion debt write-off. Prior to the partial debt payment and write-off, Nigeria spent roughly U.S. $1 billion every year on debt servicing, without making a dent in the principal owed.

Okonjo-Iweala also introduced the practice of publishing each state's monthly financial allocation from the federal government in the newspapers. She was instrumental in helping Nigeria obtain its first ever sovereign credit rating (of BB minus) from Fitch and Standard & Poor's. Nigeria is considered to have defaulted on its sovereign debt in 1983 (debt rescheduling is considered a type of default by rating agencies).

Some controversy surrounded Okonjo-Iweala's appointment as Finance Minister, as well as that of Foreign Affairs minister, Olu Adeniji, as other ministers were resentful of their United Nations salaries of over US$240,000, compared with their own $6,000 base salary. The controversy was spearheaded by reform-minded media reports, although Okonjo-Iweala felt that her critics were unjustified because of the temporary nature of the payment, which came out of the donor supported Diaspora Fund negotiated by the Nigerian government . On Friday, 20 July 2007, the Court of Appeal ruled that the salary payment was not done within the ambit of Nigeria's laws, and directed her and Adeniji to pay back the excess to the account of the state.

Both Okonjo-Iweala and the Federal Government of Nigeria have appealed the case to the Supreme Court, and judgement is pending. The appeal is on the basis that the appeals court made its judgement due to erroneous information provided to it that the Nigerian government was making the salary payments, when in fact it was not.

She resigned as Nigeria's Foreign Minister on August 3, 2006 following her sudden removal as head of Nigeria's Economic Intelligence team by President Olusegun Obasanjo. She left office at the end of August 2006.

On October 4, 2007, World Bank President Robert Zoellick appointed her to the post of Managing Director, effective December 1, 2007.
Related Articles