New Scheme To Prevent Trafficking Of Women In India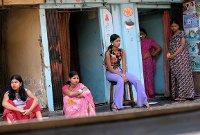 The ministry of women and child development, government of India, has formulated 'Ujjawala', a new comprehensive scheme for the prevention of trafficking and rescue, rehabilitation and re-integration of victims of trafficking and commercial sexual exploitation (CSE).
The object of the scheme is to prevent trafficking of women and children for CSE, to facilitate rescue of victims from the place of their exploitation and place them in safe custody.
To provide rehabilitation services both immediate and long term by providing basic amenities/needs such as food, clothing, medical aid, counselling, legal aid, guidance, vocational training and shelter, to facilitate reintegration of the victims into the family and society at large and to facilitate repatriation of cross-border victims to their country of origin.
Click here to read the full story on The Times Of India
Related links:
It's Sickening: Sex Slavery Alive And Well Around The World
The High Price Of Sex: Trafficked Women Pay With Their Lives
Moves To Stop Young Egyptian Women Being Exploited By Sex Tourism
Sex Slavery Is NOT Acceptable, No Matter Where It Occurs