Nepalese Women Confined by Tradition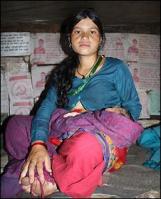 In the darkness, a 10-day-old baby boy wails.
It is midday, but the infant has not been allowed out of this special room, separate from the rest of the house, since being brought home after birth.
Only his young mother, Basanti Devi Bhul, can touch him.
She goes out a little but cannot touch anybody else because until the 11th day after the birth, society considers her to be unclean.
"I'm not doing any work," she tells the BBC.
"I just eat dry bread, green vegetables and rice - no lentils or meat. I can't touch any pots or pans or go into the main house. I just go out to wash myself and my clothes, that's all."