Nellie McKay Sings "Clonie"
Susan notes: Thanks to TED for making TED Talks downloadable and embeddable, and for providing the biographical information that goes along with them.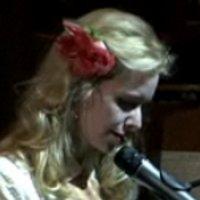 Singer-songwriter Nellie McKay performs the semi-serious song "Clonie" -- about creating the ultimate companion.
Playful, quirky, hilarious, endearing: not attributes of your typical political agitator. But singer-songwriter-producer-activist Nellie McKay merits the description. Her music is whimsical, colorful, catchy and as engaging as it is restless. Toying with antique genres and yet undeniably contemporary, it flirts with multiple styles of delivery while maintaining a sharp social conscience.
For these and other eccentricities, McKay has gained a devoted fan following. On stage and off, she's an outspoken advocate of animal rights, a friend and ally to any arch political quip and -- lucky for us -- artistically uncompromising.
After cutting two major-label records, her own indie label, Hungry Mouse, produced her latest, Obligatory Villagers.
Related Articles