Nehha Bhatnagar on Bharatanatyam Dance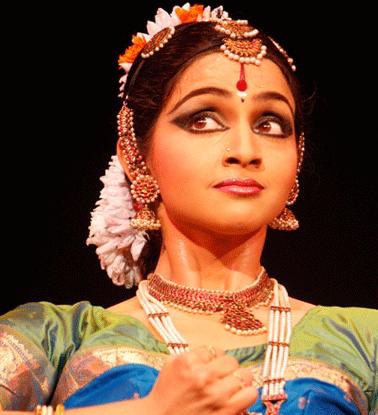 Nehha Bhatnagar is a Bharatanatyam dancer and a disciple of her Guruji, Padmashri Dr. Saroja Vaidyanathan's. She has a degree in International Relations from the Knox College, USA.

She is passionate about the notions of 'soft power' diplomacy through our classical dances. This summer, she toured the Ivy League Colleges in the US, giving talks on this notion of cultural diplomacy.

She has also been actively engaging diplomats and various Embassies in showcasing and discussing Bharatanatyam. A regular performer at noted auditoriums in Delhi, she recently performed at the Opening Ceremony of the Commonwealth Games 2010.

Nehha is also working to use dance to bring dignity and self-respect to the under-privilaged.

"Dance because you want to..because that is the only thing in the world that can complete you.. Dance because it is you."
Words, Nehha, as a young professional dancer strongly believes in. She started learning the ancient Indian classical dance form of Bharatanatyam at the tender age of four.
Since then, her dance form has become her constant friend and companion in this journey of life. Under the able guidance of her noted Guru, Padmashree Dr. Saroja Vaidyanathan, Nehha is embibing the beauty of the Tanjavur style.
Nehha was an All-India Topper in her C.B.S.E Board Exams and she completed a transfer undergraduate degree in International Relations from Lady Shri Ram College, Delhi and Knox College, U.S.A.
Nehha holds two terminologies close to her heart. 'Soft Power' and 'Cultural Diplomacy'. Though, the idea of bilateral and multilateral relations of countries improving through the idea of culture is not new, Nehha, as a youth of today is clothing this in the notion 'soft power' to give it a new surge.
Our culture is not just a legacy to be proud of, it is a force to reckon with. She hopes dance will allow her to work for its cause, forever and for always.
Susan notes: Thanks to TED for making TED Talks downloadable and embeddable, and for providing the biographical information that goes along with them.
Related Articles