Natasha Tsakos Is WOW! In "Upwake"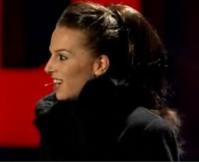 Some things (and some people) just make you go WOW !

So it is with Upwake and Natasha Tsakos.

In this TED Talk, playwright and performer Tsakos demonstrates her brand of amazing theatre and performs excerpts from her "one-woman" show Upwake, which she says is a collaboration between "19 most-talented artists."
Tsakos works in a brave new form of theater, where sound, computer-generated images and the performer move in sync to create a dreamlike yet sharply real stage environment that take theatre to the leading edge of performance art.

Swiss-born artist Tsakos lives in living in Miami, and has been a performer with Circ X and the Big Apple Circus. She writes, teaches and performs her own work in Miami and worldwide. She's the author of several plays and one-acts, a few collections of poetry and the cartoon "The Eskimans," about a penguin and an Eskimo.

In her other life, she is Kokoff the Clown, who wanders the streets of Miami in a red nose (and who made a run for president in 2000).

She also has an uber-cool website (of course!).
Related Articles