Natalie Jeremijenko Speaks About The Art of The Eco-Mindshift
Susan notes: Thanks to TED for making TED Talks downloadable and embeddable, and for providing the biographical information that goes along with them.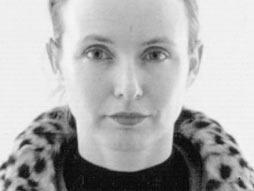 Natalie Jeremijenko's unusual lab puts art to work, and addresses environmental woes by combining engineering know-how with public art and a team of volunteers. These real-life experiments include: Walking tadpoles, texting "fish," planting fire-hydrant gardens and more.

Natalie Jeremijenko blends art, engineering, environmentalism, biochemistry and more to create real-life experiments that enable social change.

Bridging the technical and art worlds, Natalie Jeremijenko creates socially conscious experiences that make change, both directly and indirectly.

As director of the xDesign Environmental Health Clinic at NYU, she helps prescribe creative health solutions for the environment that are carried out by enthusiastic volunteers.

As a professor in NYU's Visual Art Department, she creates and supervises real-life projects for her students like HowStuffIsMade (a website that details how everyday objects are created) and Feral Robots (packs of robot dogs that have been hacked to monitor pollution or even act as breathalyzers).
Her individual work has been exhibited in the MASS MoCA, the Whitney Museum, and the Cooper-Hewitt Museum, and she is part of an artists' collective called the Bureau of Inverse Technology.
Past projects include the Despondency Index -- a motion detector camera was installed on San Francisco's Bay Bridge to record suicides, which were then graphed in relation to stock market data. Jeremijenko was named as a 1999 Rockefeller Fellow, one of the 40 most influential designers by I.D. Magazine and one of the Top 100 Young Innovators by MIT Technology Review. She was included in both the 2006 Whitney Biennial of American Art and the Cooper Hewitt Smithsonian Design Triennial 2006-7.
Related Articles