Najla Al Awadhi (Parlementarian / Entrepreneur)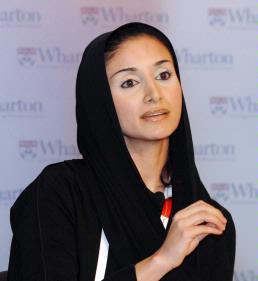 Ms Najla Al-Awadhi is a member of the Federal National Council (the United Arab Emirates-UAE parliament). She is one of the first women in the history of the UAE to become a member of the UAE's Parliament, and also its youngest parliamentarian.
She began her 2 year parliament term in February 2007. She serves on the Education, Youth, Media and Culture Committee, and also the FNC steering committee which was set up to develop a scheme to modernize the parliament's practices, and overall effectiveness.
She previously served on the Foreign Affairs, Planning, Petroleum, Mineral Wealth, Agriculture and Fishery Committee
She is also the first woman from a Gulf Cooperation Country to hold a senior executive post in a state run media organization. In addition to being the first female from the UAE to launch and head a free to air satellite tv channel.
She serves as the Deputy Chief Executive Officer of Dubai Media Incorporated (DMI), a media group which operates four free-to-air satellite channels that are owned by the government of Dubai.
DMI channels include Dubai TV, Dubai One, Sama Dubai, Dubai Sports. She is also the General Manager of Dubai One.
Her climb to corporate leadership positions in the media landscape of the UAE, specifically that of television, has contributed to the encouragement of UAE women to join the burgeoning field of media, once viewed as a strictly male dominated industry.
She is also a board member of the Young Arab Leaders and heads the UAE chapter's education initiative; an initiative which seeks to provide higher education opportunities for talented UAE nationals. She also sits on the boards of the UAE Genetic Diseases Association, and Dubai Women's Establishment.
Other projects she is currently working on include, The Mohammad Bin Rashed School of Communication (MBRSC) launched in august 2008 in collaboration with the University of Southern California.
Since May 2007 she has been a monthly columnist for the leading English news paper in the UAE 'Gulf News.'
She graduated from the University of New Hampshire magna cum laude with a degree in History, where she was president of the Muslim Student Association, the Human Rights Committee and also a judicial advisor.
Related Links:
Najla Al Awadhi on Wharton University Dubai
Najla Al Awadhi Consulting