Ms Lube All Female Garage Under Attack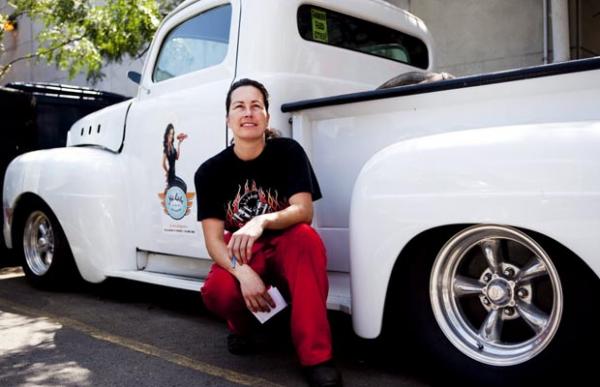 Back in the 1950s, things were simpler. Cars with tailfins were majestic, your local mechanic knew you by name, companies had finally figured out women could do physical labour-intensive jobs and lawsuits rarely, if ever, happened.
Jessica Gilbank, owner and head mechanic at Ms. Lube by Mechanchik garage at Bathurst and College streets in Toronto, wouldn't mind going back to those simpler times.
Although she has built and branded her unique-to-North-America all-women garage on the principles of the 1950s -- smiles, honesty and customer service -- ever since being asked to participate on the hit CBC show Dragons' Den (where hopeful entrepreneurs try to strike deals with wealthy investors) by one of the show's producers, her old-school mentality has been tested and she's been thrust full speed into the litigious nature of the 21st century.
Ms. Gilbank is being sued by Mr. Lube-- a nationwide chain of garages partially owned by Jim Treliving, an investor on Dragons' Den -- which alleges she is piggybacking on its success and damaging its image.
"They say we're taking away business and there's possible consumer confusion that Ms. Lube is the same company as Mr. Lube and because of that, they're claiming it diminishes their brand," Ms. Gilbank says.
"It's ironic because they're claiming we're affecting their business, but we're one little shop in the corner that can barely handle 10 cars a day." Plus, Ms. Lube has only been operating since April 2009.
Ms. Gilbank says her lawyers don't believe Mr. Lube has a case because of the numerous differences between the two businesses and the fact the federal government approved the name of her company.
She claims there are other politics at play, especially because Mr. Lube wants ownership of the Ms. Lube name.
"Mr. Lube has a lot of money it can sink into this suit, and I don't have that same luxury," she says.
Ms. Gilbank says she understands a large corporation has to protect its image, but she doesn't understand going after such a small business and on principle, she says she won't back down until the money runs out, which will come sooner than she would like.
Lawyers for Mr. Lube and company representatives declined to comment on the case.
But before the drama of lawsuits, Ms. Gilbank had a Bay Street job. "I didn't like what I was doing because it wasn't making a difference," she says. She decided to drop the briefcase and skirt suit and pick up coveralls and a wrench when she was just 25 years old.
After years of apprenticeships and working in male-dominated garage environments, Ms. Gilbank grew tired of the gender politics, which she says distracted her from her job. "I was always defending myself in male-run shops," she says, adding she didn't like being an employee anyway, so there was only one option. "Opening an all-girl shop was an afterthought. I just wanted my own space." Positions at Volvo and later Mercedes, helped her save enough cash to buy the Ms. Lube property.
Click here to read the full story:
By Jodi Lai
Montreal Gazette
Photo Credit:
Della Rollins, For National Post