Monika Nowaczyk (Social Entrepreneur)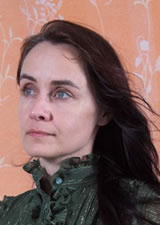 I started to be interested in the art of knitting when I was a in Austria, a 6 year old child of a refugee family fleeing Communist Poland for a better life in Canada.
Being so young, I didn't fully understand the situation we were in, just that we weren't home and were never going back.
And I didn't understand until many years later just how fortunate I was because of it.
When my mother and sister started knitting hats and sweaters, I knew I had to get in on the action. I demanded to be instructed in the fine art of crochet and armed with a crochet hook and a string of yarn, I made my first chain.
I was so proud of my creation, I wore it as a necklace and sometimes as a headband. I remember the fascination and awe that stitch by stitch, a new entity was slowly created by my own two hands.
Stitch by stitch. That is what appeals to me most about knitting. It is a slow and laborious process, sometimes monotonous, always meditative, that results in an end product completely unlike what one starts with: two sticks and some yarn. Now, stitch by stitch I hope that I can help people in Cambodia improve their situations through fair, flexible and rewarding employment.
It all started when I stumbled across an article about a woman who set up a social enterprise in Bangladesh making high quality toys and baby knits for export, now supporting over 2000 women and their families. I was inspired and saw no reason why I couldn't attempt something similar in Cambodia. I'd never wanted to run my own business as making money was never something I was interested in.
My driving force has always been 'helping people' at least trying to. I didn't always know how to apply myself effectively to do that and had been searching for a way to make a effective contribution for years. The idea of using knitting as a way to spear change seemed crazy, of course, but the more I thought about it, the more sense it made.
I worked in NGOs for a few years here in Cambodia, I even completed an MSc in Development Managment, and while that experience was rewarding, I'm hooked on the idea that social enterprise has the potential to reach more people, more directly with less strings (and reports) attached.
Billions of dollars of aid have poured into Cambodia over the past decade and yet still the majority of the population lives on less than a dollar a day. Creating jobs for people, helping them earn a decent salary in order to support themselves… I'm betting it's an effective way to 'help people' help themselves.
Since June 2009, I have been running Cambodia Knits in Phnom Penh. With personal savings and financial help from friends and family and other generous supporters, we have grown and now have more than 25 knitters, in two communities knitting for us.
We've developed two product lines based on patterns from designers generous enough to let us utilize them and are currently working on homegrown patterns and products. We even hope to develop knitted lace patterns based on ancient Angkorian designs!
Our main goal is to provide employment to communities which have been relocated from urban centers. Forced evictions happen with regularity thoughout Cambodia, with the majority occuring in the capital. In 2008, more than 20 000 people were affected by forced evictions.
Most of those evicted are relocated to empty lots or substandard shelters, a fair distance from the city center. As the relocation sites are so far from the city, there are few job opportunties for those living there and the price of transporation almost always exceeds expected earnings. This is where I hope CK can assist these communties with employment creation.
Cambodia Knits hopes to become a profitable business, by creating and producing high quality products for sale locally, electronically and through worldwide distribution. Profits can then be reinvested in the communities and I hope along the way we can add on things like child care where our knitters work or scholarships for their children and other benefits. The ultimate goal is not to enrich some far away investors who provide cash for returns but to enrich the lives of the people we work with and to do that through a sustainable, fair model.
Running Cambodia Knits has been a huge challenge, but a rewarding and refreshing one. Making it a success is going to take a lot more hard work! However, seeing the impact that we have had on the lives of the people we employ is incredible and I hope we can continue to sell more products, grow and reach more communities.
Related links:
Monika Nowaczyk on Changents
@CambodiaKnits