Miru Kim's Underground Art
Susan notes: Thanks to TED for making TED Talks downloadable and embeddable, and for providing the biographical information that goes along with them.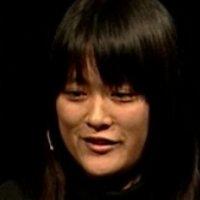 At the 2008 EG Conference, artist Miru Kim talks about her work. Kim explores industrial ruins underneath New York and then photographs herself in them, nude -- to bring these massive, dangerous, hidden spaces into sharp focus.
Miru Kim is a photographer and filmmaker with a love of the new and unknown. In her best-known body of work, the
Naked City Spleen
series, she investigates left-behind industrial spaces, infiltrates them with her camera, and then photographs herself in the space, nude.
Like Wallace Stevens'
jar upon a hill
, the presence of her small body brings these massive, damp and dirty, unknown spaces into a new focus.
Extending her aesthetic, she has made a film of Strindberg's A Dream Play set in an abandoned tunnel underneath New York City. Kim is also the founder of Naked City Arts, a group that helps promote new artists and unconventional work.
Related Articles