Milena Arciszewski (Social Entrepreneur)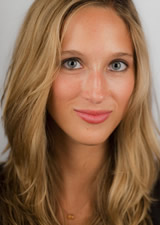 After graduating from the University of Virginia in 2006, Milena worked for several years as an investment banker at JPMorgan in New York City.
Craving adventure and purpose, she quit her job after 2.5 years and become a Kiva Fellow, through which she volunteered at microfinance institutions in Bosnia, Kenya, and the Philippines.
While overseas, she developed the idea for Pando, based on her experience as a grassroots organizer in college.
She now lives in NYC and is pursuing her dream of starting an organization to empower home-grown community projects.
She loves backpacking, camping, travel, books, delicious food, elephants, brainstorming, and social entrepreneurship. Her favorite quote is: "Every cell's dream is to become two cells."
Related links:
Milena Arciszewski on Changents
@PandoProjects