Middle Eastern Women Excel As Entrepreneurs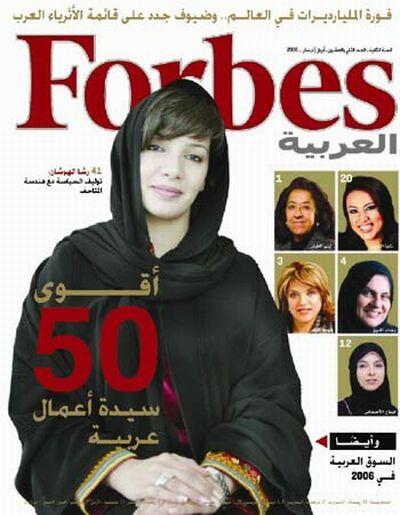 Reema Bint Bandar Al Saud is an Arabian princess with an entrepreneurial streak.
As president and CEO of ALFA International and AL HAMA LLC, two leading luxury retail corporations in her native Saudi Arabia, and cofounder of Yibreen, a women's day spa in Riyadh, she is eager to defy the misconception that Saudi women are unsophisticated consumers who will buy any product put in front of them.
Saudi women are not only well-informed about their purchases, but they also seek out entrepreneurial opportunities to serve the needs of other women, she believes.
As if to prove that point, ALFA International owns the license for Harvey Nicols Riyadh, the U.K.-based luxury lifestyle store's first overseas location, which employs Saudi women to be its lead buyers.
Yibreen has gone beyond offering health and wellness services to providing women a place to network since its opening in 1999. Recently the spa hosted a fashion show where Saudi female designers launched new clothing lines.
"It is a misconception that women have a long way to go," Al Saud notes. "Our plight is not that far behind any other society in health and work."
Her passage from palace to marketplace is a metaphor for a broader change: All over the Middle East, women are continuing to cross boundaries, going from being heads of households to small business owners to CEOs. While women entrepreneurs are a minority in most of the world, their presence in the Middle East and North
African region (MENA) has been much lower in comparison to not only other middle-income regions but also predominantly Muslim countries such as Indonesia and Malaysia. As the cost of living steadily rises in the region, though, and the need emerges for job creation for a growing labor force, women entrepreneurs are playing a role in creating new employment opportunities.
Women such as Basmah Al Omair, executive director of the AlSayedah Khadijah Bint Khawilid Businesswomen and Lobby Center have found an ally dating back 1,500 years to push for reforms in the Kingdom in support of female entrepreneurship.
Named after the first wife of Prophet Muhammad, Khadijah, a powerful international trader who was pivotal in the expansion of Islam, the Center has worked with King Abdullah and Saudi ministries. Housed in the Jeddah Chamber of Commerce, it has pursued initiatives to change laws so that women can have the right to work in mixed environments and serve as CEOs and as head of boards.
The Khadijah Center also aims to remove restrictions that previously limited what business licenses women could obtain.
Overcoming Cultural Barriers
Although women are making major strides as entrepreneurs, cultural challenges remain in the MENA region. "Socializing on a business front is difficult after hours. If two families are talking over dinner, for instance, a woman likely won't be part of that conversation," says Al Saud.
Lamia Boutaleb, who cofounded Capital Trust, a Casablanca-based investment bank, believes these barriers can be overcome. "In investment banking, information is everything," she says. While it may not be culturally acceptable for men and women to sit together in social gatherings, they still have opportunities to network. Boutaleb schedules appointments with her male counterparts in the industry during working hours and has found this approach to be effective.
Click here for the full story:
Arabic Knowledge@Wharton
Photo Credit:
Forbes Magazine
Related Links:
More About Entrepreneurs on AWR