Middle East Voice For Peace Silenced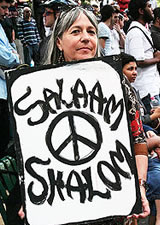 From WomenseNews: An Israeli-Palestinian women's group that helped pioneer the push for a two-state solution fell apart in late 2010 under pressure of heightened hostilities.
Its demise highlights the scarcity of women in peace talks in this conflict and around the world.
A Palestinian-Israeli women's group that had been pushing for a two-state solution for Israel and the occupied territories can't offer any comment on the Palestinian Authority's push for statehood recognition at the United Nations this week.
That's because the group, International Women's Commission for a Just and Sustainable Peace between Israel and Palestine (IWC), fractured last year under the pressure of heightened tensions between the two sides.
The last time the group gathered was in October 2010 in Jericho, in the West Bank, said Simone Susskind, a member of the group's International Steering Committee, who spoke with Women's eNews in a phone interview from her office in Brussels, Belgium.
The tri-lateral women's group, consisting of Palestinian women, Israeli women and female political leaders from around the world, was founded in 2005 under the auspices of UNIFEM in New York. Its mission was to implement and strengthen U.N. Security Council Resolution 1325, passed in 2001 and requiring parties in a conflict to respect women's rights and to support their participation in peace negotiations and in post-conflict reconstruction.
"It is sad, but we agreed to the end of IWC because we were not able to work altogether anymore," said Susskind. "There were tensions linked to the 2008 Israeli military operation against Gaza. It was extremely hard because 80 percent of the Israeli population approved the military intervention, including women who were members of the international commission of IWC.
For the Palestinian women there was no way to work with partners who justified the Israeli attack. Again, last year the Gaza flotilla raid raised tensions and provoked crises."
Polarizing Events
In December 2008, the Israeli army launched an attack against Gaza in response to rocket fire from the Palestinian territory. The reprisal attack on Gaza left 1,400 Palestinians and 13 Israelis dead, four from friendly fire.
Last year, the Israel military boarded six ships in international waters that were carrying relief supplies to the Gaza Strip, which was under Israeli military blockade. The action left nine members of the protest "flotilla" dead.
Click here to read the full story:
By Hajer Naili
From Women enews
Photo CreditTakver on Flickr