Microsoft Pays Million Plus For Exec Silence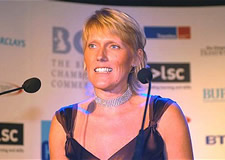 Microsoft paid out "more than £1 million" to silence a female executive who was unfairly overlooked to become managing director of its business in Britain.
Natalie Ayres worked at the computer software company for 15 years, rising through its ranks to become the general manager of its "Small-Medium Enterprises and Partners Group".
The married mother was seen as an outstanding candidate and was widely tipped to succeed Alistair Baker as managing director of Microsoft UK when the position became vacant in the summer of 2006.
However, the role was handed to Gordon Frazer, a general manager at Microsoft South Africa, allegedly before Mrs Ayres had even completed the interview process. When she left at the end of that year, it was under a "compromise agreement", which sources at the company said ran into seven figures.
At the time, Mr Frazer said in a statement that Microsoft would miss her "dedication and intelligence", but respected "her personal decision to move on".
Her departure caused anger among other Microsoft employees who felt she had been unfairly treated. They also raised questions about a "glass ceiling" for women rising through the company's ranks.
"They [management] do not follow procedure enough and if your face doesn't fit, you suffer. It's a boys' club. The only way to progress beyond a certain point is to become a male in female clothing," a source said.
Although women compete on an equal basis further down the organisation, they hit a glass ceiling at around "level 65 or above" – a senior level within the company, the source added. Microsoft and Mrs Ayres both declined to comment. On a Microsoft website about "diversity and equality" Mrs Ayres is quoted describing the computer company as a particularly good place to work as a woman.
"I think women can be more susceptible to self-doubt but I've always found a natural place at the table for me at Microsoft at every level," she said on the site, which pre-dated Mr Frazer's appointment. Her pay-off is the latest damaging revelation about Microsoft UK.
Earlier this month, The Daily Telegraph revealed details of repeated sexual harassment by married senior managers towards their female colleagues, which were laid bare in a £10 million High Court battle between the company and one of its former employees.
In one instance, Emma Cloney, Microsoft's "global alliance" manager, was forced to seek "protection" and flee a debauched staff party after two of her senior, married colleagues made unwanted sexual advances.
Click here to read the full story:
By Katherine Rushton
The Telegraph