Maya Ganesan Speak About Her Poetry & Writing (TEDxRedmond)
Susan notes: Thanks to TED for making TED Talks downloadable and embeddable, and for providing the biographical information that goes along with them.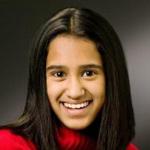 An accomplished writer and poet, twelve-year-old Maya Ganesan already has a published book (Apologies to an Apple) under her belt.

Active in reading and writing long before she released her poetry collection, Maya was reading chapter books at two years old, writing poems at four, and participating in the the Redmond Spokenword competition at age eight.

Today, Maya continues her writing on the blog Allegro.
Related Articles