Mary Spio Presents The Age of "Me"dia At TEDxGreenville
Susan notes: Thanks to TED for making TED Talks downloadable and embeddable, and for providing the biographical information that goes along with them.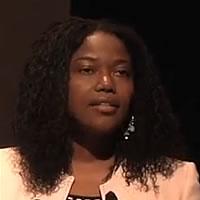 The Age of "Me"dia: Inside the Little Red Box - Spio: a real life rocket scientist now blazing through the business world.

She was a pioneer in Digital Cinema at Boeing before starting Gen2Media, a video technology company offering video production, online marketing, and video delivery for companies.
She's worked with Oprah, Elton John, Mary J. Blige, and more. Current clients include Microsoft, Tribune News, and Toyota.

Related Articles