Mary Robinson (First Female President of Ireland/UN High Commissioner for Human Rights)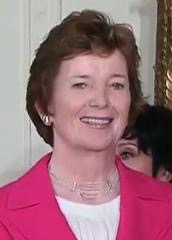 Mary Therese Winifred Robinson (born 21 May 1944) served as the seventh, and first female, President of Ireland, serving from 1990 to 1997, and the United Nations High Commissioner for Human Rights, from 1997 to 2002.
She first rose to prominence as an academic, barrister, campaigner and member of the Irish Senate (1969–1989).
She defeated Fianna Fáil's Brian Lenihan and Fine Gael's Austin Currie in the 1990 presidential election becoming, as an Independent candidate nominated by the Labour Party, the Workers' Party and independent senators, the first elected president in the office's history not to have had the support of Fianna Fáil.
She is credited by many as having revitalised and liberalised a previously conservative political office. She resigned the presidency two months ahead of the end of her term of office to take up her post in the United Nations.
Robinson has been Honorary President of Oxfam International since 2002, she is Chair of the International Institute for Environment and Development (IIED) and is also a founding member and Chair of the Council of Women World Leaders. Robinson is also one of the European members of the Trilateral Commission.

She serves on many boards including as chair of the GAVI Alliance (until 2010). Robinson's newest project is Realizing Rights: the Ethical Globalization Initiative, which fosters equitable trade and decent work, promotes the right to health and more humane migration policies, works to strengthen women's leadership and encourage corporate responsibility.
The organisation also supports capacity building and good governance in developing countries. She is Chancellor of the University of Dublin. Since 2004, she has also been Professor of Practice in International Affairs at Columbia University, where she teaches international human rights. Robinson also visits other colleges and universities where she lectures on human rights.
In 2004, she received Amnesty International's Ambassador of Conscience Award for her work in promoting human rights.
Born Mary Therese Winifred Bourke in Ballina, County Mayo, in 1944, she is the daughter of two medical doctors. Her father was Dr. Aubrey Bourke of Ballina, County Mayo, while her mother was an Ulsterwoman, Dr. Tessa Bourke (née O'Donnell) of Carndonagh, Inishowen, County Donegal. The Hiberno-Norman Bourkes have been in Mayo since the thirteenth century. Her family had links with many diverse political strands in Ireland.
One ancestor was a leading activist in the Irish National Land League of Mayo and the Irish Republican Brotherhood; an uncle, Sir Paget John Bourke, was knighted by Queen Elizabeth II after a career as a judge in the Colonial Service; while another relative was a Roman Catholic nun. Some branches of the family were members of the Anglican Church of Ireland while others were Roman Catholics. Robinson was therefore born into a family that was a historical mix of rebels against and servants of the Crown.
Mary Bourke attended Mount Anville Secondary School in Dublin[citation needed] and studied law at Trinity College, Dublin and Harvard Law School. In her twenties, she was appointed Reid Professor of Law in the college, considered to be a prestigious appointment made to accomplished lawyers. Subsequent holders of the title have included her successor as Irish president Mary McAleese, Professor John F. Larkin Q.C., Irish Human Rights Commissioner and prominent pro-choice activist Senator Ivana Bacik.
In 1970 she married Nicholas Robinson. Despite the fact that her family had close links to the Church of Ireland, her marriage to a Protestant student caused a rift with her parents, who did not attend her wedding, although the rift was eventually overcome in subsequent months. Together they have three children.
Robinson was inaugurated as the seventh President of Ireland on 3 December 1990. She proved a remarkably popular president, earning the praise of Lenihan himself, who before his death five years later, said that she was a better president than he ever could have been. She took an office that had a reputation as being little more than a retirement position for prominent politicians and breathed new life into the role.
Robinson brought to the presidency legal knowledge, deep intellect and political experience. She reached out to the Irish 'diaspora' (the vast number of Irish emigrants and people of Irish descent). She also changed the face of Anglo-Irish relations, visiting Britain and became the first Irish president to meet Queen Elizabeth II at Buckingham Palace. She welcomed visits by senior British royals, most notably the Prince of Wales to her official residence, Áras an Uachtaráin.
Her political profile changed also. Charles Haughey, Taoiseach when she was elected (and who had had to dismiss her rival, Brian Lenihan when the Progressive Democrats, the smaller party in government, threatened to leave the government unless he was sacked) had a diffident relationship with her, at one stage preventing her from delivering the prestigious BBC Dimbleby Lecture. Haughey's successors, Albert Reynolds (Fianna Fáil: 1992–94), John Bruton (Fine Gael: 1994–97) and Bertie Ahern (Fianna Fáil:1997–2008 ) never hid their admiration of her work, with Bruton's and Ahern's governments actively campaigning to get her the United Nations High Commissioner for Human Rights post when she sought it.
In the previous fifty-two years, only one address to the Oireachtas (parliament) had taken place, by Éamon de Valera in 1966, on the fiftieth anniversary of the Easter Rising. Robinson delivered two such Addresses, though they were thought too long and intellectually obscure and not judged a success. She was also invited to chair a committee to review the workings of the United Nations, but declined when asked to by the Irish government, who feared that her involvement might make it difficult for it to oppose the proposals that would result.
Controversially, on one trip to Belfast she met with the local MP, Gerry Adams, the President of Sinn Féin. Foreign Minister Dick Spring, who was leader of the Labour Party, advised her not to meet Adams, whose party was linked with the Provisional IRA. However the Government refused to formally advise her not to meet with him. She felt it would be wrong, in the absence of such formal advice, for her as head of state not to meet the local member of parliament during her visit, and was photographed publicly shaking his hand. During her various visits to Northern Ireland, she in fact regularly met politicians of all hues, including David Trimble of the Ulster Unionist Party and John Hume of the Social Democratic and Labour Party.
To the surprise of her critics, who had seen her as embodying liberalism that the Catholic Church disapproved of, she had a close working relationship with the Church. She visited Irish nuns and priests abroad regularly, and became the first president to host an Áras reception for the Christian Brothers. When on a working trip to Rome, she requested, and was granted, an audience with Pope John Paul II.
The outfit she wore was condemned by a controversial young priest, Fr. David O'Hanlon, in The Irish Times for supposedly breaking Vatican dress codes on her visit; the Vatican denied that she had — the Vatican dress codes had been changed early in John Paul's pontificate — an analysis echoed by Ireland's Roman Catholic Bishops who distanced themselves from Fr. O' Hanlon's comments.
Robinson became the United Nations High Commissioner for Human Rights on 12 September 1997, resigning the Presidency a few weeks early with the approval of Irish political parties in order to take up the post. Media reports suggested that she had been head-hunted for the post by Secretary General of the United Nations Kofi Annan to assume an advocacy as opposed to administrative role, in other words to become a public campaigner outlining principles rather than the previous implementational and consensus-building model.
The belief was that the post had ceased to be seen as the voice of general principles and had become largely bureaucratic. Robinson's role was to set the human rights agenda within the organisation and internationally, refocusing its appeal.
In November 1997, still new to her post, Robinson delivered the Romanes Lecture in Oxford on the topic of "Realizing Human Rights"; she spoke of the "daunting challenge" ahead of her, and how she intended to set about her task. She concluded the lecture with words from The Golden Bough: "If fate has called you, the bough will come easily, and of its own accord. Otherwise, no matter how much strength you muster, you never will manage to quell it or cut it down with the toughest of blades."
Robinson was the first High Commissioner for Human Rights to visit Tibet, making her trip in 1998. During her tenure she criticised the Irish system of permits for non-EU immigrants as similar to "bonded labour" and criticised the United States' use of capital punishment. Though she had initially announced her intention to serve a single four-year period, she extended the term by a year following an appeal from Annan, allowing her to preside over the 2001 World Conference against Racism in Durban, South Africa, as Secretary-General. Robinson's posting as High Commissioner ended in 2002, after sustained pressure from the United States led her to declare she was no longer able to continue her work.
Robinson had criticised the US for violating human rights in its war on terrorism and the World Conference against Racism was widely condemned in the US for its perceived anti-semitism. Michael Rubin even went so far as to suggest that she be tried for war crimes for presiding over "an intellectual pogrom against Jews and Israel."
United States Congressman Tom Lantos faulted her for neglecting "to provide the leadership to keep the conference on track" and accused her of shouldering "much of the responsibility for the debacle." In 9 Nobember 2006 in Yogyakarta, she attended the international Conference, then she became one of 29 signators of the Yogyakarta Principles, adopted for protection of LGBT rights by International Human Rights Law.
Related Links:
Mary Robinson on Wikipedia