Mary Oliver (Writer/Poet)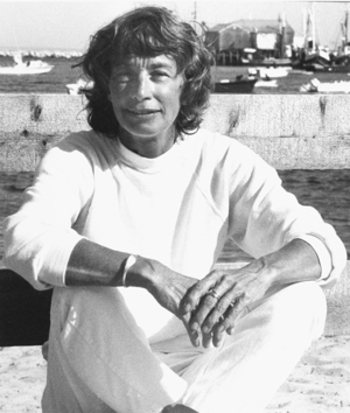 Mary Oliver (born September 10, 1935) is an American poet who has won the National Book Award and the Pulitzer Prize.
The New York Times described her as "far and away, this country's [America's] best-selling poet".
Mary Oliver was born to Edward William and Helen M. V. Oliver on September 10, 1935, in Maple Heights, Ohio, a semi-rural suburb of Cleveland.
Her father was a social studies teacher and an athletics coach in the Cleveland public schools. She began writing poetry at the age of 14, and at 17 visited the home of the late Pulitzer Prize winning poet Edna St. Vincent Millay, in Austerlitz, upper New York state.
She and Norma, the poet's sister, became friends and Oliver "more or less lived there for the next six or seven years, running around the 800 acres like a child, helping Norma, or at least being company to her" and assisting with organising the late poet's papers.
Oliver's first collection of poems, Voyage, and Other Poems, was published in 1963, when she was 28. During the early 1980s, Oliver taught at Case Western Reserve University. Her fifth collection of poetry, American Primitive, won the Pulitzer Prize for Poetry in 1984.
She was Poet In Residence at Bucknell University (1986) and Margaret Banister Writer in Residence at Sweet Briar College (1991), then moving to Bennington, Vermont, where she held the Catharine Osgood Foster Chair for Distinguished Teaching until 2001.
She won the Christopher Award and the L. L. Winship/PEN New England Award for her piece House of Light (1990) and New and Selected Poems (1992), won the National Book Award.
Oliver's work turns towards nature for its inspiration and describes the sense of wonder it instills in her. "When it's over", she says, "I want to say: all my life / I was a bride married to amazement. / I was the bridegroom, taking the world into my arms." ("When Death Comes" from New and Selected Poems (1992).
Her collections Winter Hours: Prose, Prose Poems, and Poems (1999), Why I Wake Early (2004), and New and Selected Poems, Volume 2 (2004) build the themes. The first and second parts of Leaf and the Cloud are featured in The Best American Poetry 1999 and 2000, respectively and her essays appear in Best American Essays 1996, 1998 and 2001.
On a return visit to Austerlitz, in the late 1950s, Oliver met photographer Molly Malone Cook, who would become her partner for over forty years.[4]In Our world she says "I took one look and fell, hook and tumble." Cook was Oliver's literary agent.
They made their home largely in Provincetown, Massachusetts, where they lived until Cook's death in 2005, and where Oliver still lives. Greatly valuing her personal privacy, Oliver has given very few interviews, saying she prefers for her writing to speak for itself.
She recalls "I too fell in love with the town, that marvelous convergence of land and water; Mediterranean light; fishermen who made their living by hard and difficult work from frighteningly small boats; and, both residents and sometime visitors, the many artists and writers.[...] M. and I decided to stay." Oliver briefly attended both Ohio State University and Vassar College in the mid-1950s, but did not receive a degree at either college.
Mary Oliver's poetry is grounded in memories of Ohio and her adopted home of New England, setting most of poetry in around Provincetown since she moved there in the 1960s.
Influenced by both Whitman and Thoreau, she is known for her clear and poignant observances of the natural world. Her creativity is stirred by nature, and Oliver, an avid walker, often pursues inspiration on foot. Her poems are filled with imagery from her daily walks near her home: shore birds, water snakes, the phases of the moon and humpback whales.
In Long life she says "[I] go off to my woods, my ponds, my sun-filled harbor, no more than a blue comma on the map of the world but, to me, the emblem of everything." She commented in a rare interview "When things are going well, you know, the walk does not get rapid or get anywhere: I finally just stop, and write. That's a successful walk!" She says that she once found walking herself in the woods with no pen and went later hid pencils in the trees so she would never be stuck in that place again.
She often carries a 3-by-5-inch hand-sewn notebook for recording impressions and phrases. Maxine Kumin calls Oliver "a patroller of wetlands in the same way that Thoreau was an inspector of snowstorms."
Oliver has also been compared to Emily Dickinson, with whom she shares an affinity for solitude and interior monologues. Her poetry combines dark introspection with joyous release. Although she has been criticized for writing poetry that assumes a dangerously close relationship of women with nature, she finds the self is only strengthened through an immersion with nature.
Oliver is also known for her unadorned language and accessible themes. The Harvard Review describes her work as an antidote to "inattention and the baroque conventions of our social and professional lives. She is a poet of wisdom and generosity whose vision allows us to look intimately at a world not of our making."
Related Links:
Mary Oliver on Wikipedia