Mary, Most Famous Mother Of All Time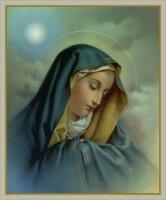 On December 25th each year, Christians around the world mark the birth of Jesus, son of Mary, arguably the most famous mother of all time.

A Jewish woman of Nazareth, Mary (Mariam in Arabic; Miryam in Hebrew), is celebrated and revered by all three of the world's major religions: Christianity, Judaism and Islam.
According to the Bible's New Testament, the angel Gabriel announced to Mary that she was to be the mother of the promised Messiah by conceiving him through the Holy Spirit.
She delivered her son in the most humble circumstances: in a stable in the town of Bethlehem to which she and her husband Joseph had traveled to be counted in a census.
Relatively little is mentioned of her elsewhere in the Bible – no doubt she loved her son deeply, and must have suffered terribly when he was tortured and killed, just as any mother would grieve the loss of a beloved child.
Interestingly, Mary, mother of Jesus, is mentioned more in the Qur'an than in the entire New Testament. She enjoys a singularly distinguished and honoured position amongst women in Islam, and is the only woman to have a Qur'anic chapter (Maryam), named for her. According to Wikipedia, she is the only woman directly named in the Qur'an, and declared (uniquely along with Jesus) to be a Sign of God to mankind.
Were it not for Mary, a humble Jewish girl who lived in Galilee two thousand years ago, there would be no prophet Jesus of which to speak, and no Christmas Day to celebrate.
Related Articles