Marjorie Scardino (Chief Executive)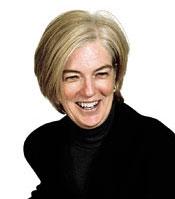 Dame Marjorie Morris Scardino is the CEO of Pearson PLC. She became the first female Chief Executive of a FTSE 100 company when she was appointed CEO of Pearson in 1997. She is also a non-executive director of Nokia and former CEO of the Economist Group.
Scardino is a graduate of Baylor University and the University of San Francisco School of Law and the winner of the 2002 Benjamin Franklin Medal. Before 1985 she was the editor of the Pulitzer Prize-winning newspaper, The Georgia Gazette, where she worked with her husband Albert Scardino, later a media reporter for The New York Times.
She is also a trustee of the Victoria and Albert Museum and serves on the board of the MacArthur Foundation and the Carter Center. She is an Honorary Fellow of the Royal Society of Arts.
In 2007 she was listed 17th on the Forbes list of the 100 most powerful women in the World.
Related Links:
Wikipedia
The World's Most Powerful Women 2009