Margaret Sanger (Founder of the American Birth Control League)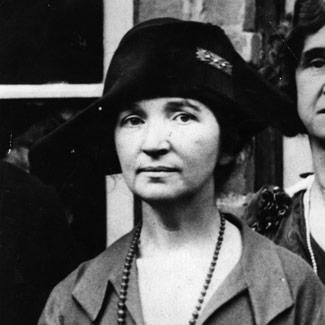 Margaret Higgins Sanger Slee (September 14, 1879 – September 6, 1966) was an American birth control activist and the founder of the American Birth Control League.
Margaret Higgens was born in Corning, New York. Her mother, Anne Purcell Higgins, was a devout Catholic who went through 18 pregnancies (with 11 live births) before dying of tuberculosis and cervical cancer. Margaret's father, Michael Hennessy Higgins, earned his living "chiseling angels and saints out of huge blocks of white marble or gray granite for tombstones,"and was also an activist for women's suffrage and free public education. Margaret was the sixth of eleven children and spent much of her youth assisting in household chores and care of her younger siblings.
In 1915 Sanger visited a Dutch birth control clinic at which she became convinced that a diaphragm was actually a more effective means of contraception than the suppositories and douches that she had been distributing back in the United States. This realization began the slow introduction of the diaphragm to the United States with Sanger later illegally smuggling them into the country.
In 1916, Sanger published What Every Girl Should Know, which was later widely distributed as one of the E. Haldeman-Julius "Little Blue Books". It provided information about such topics as menstruation and sexuality in adolescents. It was followed in 1917 by What Every Mother Should Know. She also launched the monthly periodical The Birth Control Review and Birth Control News and contributed articles on health to the Socialist Party paper, The Call.
On October 16, 1916, Sanger opened a family planning and birth control clinic at 46 Amboy St. in the Brownsville neighborhood of Brooklyn, the first of its kind in the United States. It was raided 9 days later by the police. She served 30 days in prison. An initial appeal was rejected but in 1918 an opinion written by Judge Frederick E. Crane of the New York Court of Appeals allowed doctors to prescribe contraception.
Sanger founded the American Birth Control League (ABCL) in 1921. In 1922 she traveled to Japan to work with Japanese feminist Kato Shidzue promoting birth control; over the next several years, she would return another six times for this purpose. In this year she married her second husband, oil tycoon James Noah H. Slee.
In 1923 under the auspices of the ABCL, she established the Clinical Research Bureau (CRB). Sanger eventually found a loophole in the system when she had learned that physicians were exempt from the law that prohibited the distribution of contraceptive information to women when prescribed for medical reasons. With the help of her wealthy supporters, Sanger was finally able to open the first legal birth control clinic that was staffed entirely by female doctors and social workers. It was the first legal birth control clinic in the U.S. (renamed Margaret Sanger Research Bureau in 1940). It received crucial grants from John D. Rockefeller, Jr.'s Bureau of Social Hygiene from 1924 onward. The grants were made anonymously to avoid public exposure of the Rockefeller name to her agenda. The family also consistently supported her ongoing efforts in regard to population control.
Also in 1923 she formed the National Committee on Federal Legislation for Birth Control and served as its president until its dissolution in 1937 after birth control, under medical supervision, was legalized in many states. In 1927 Sanger helped organize the first World Population Conference in Geneva.
Between 1921 and 1926 Sanger received over a million letters from mothers requesting information on birth control. From 1916 on she lectured "in many places—halls, churches, women's clubs, homes, theaters" to "many types of audiences—cotton workers, churchmen, liberals, socialists, scientists, clubmen, and fashionable, philanthropically minded women."
In 1926 Sanger gave a lecture on birth control to the women's auxiliary of the Ku Klux Klan in Silver Lake, New Jersey. She described it as "one of the weirdest experiences I had in lecturing," and added that she had to use only "the most elementary terms, as though I were trying to make children understand." Sanger's talk was well-received by the group and as a result "a dozen invitations to similar groups were proffered."
In 1928 Sanger resigned as the president of the ABCL, severing all legal ties, and took full control of the CRB, renaming it the Birth Control Clinical Research Bureau. Two years later, she became president of the Birth Control International Information Center. In January 1932 she addressed the New History Society, an organization founded by Mirza Ahmad Sohrab and Julie Chanler; this address would later become the basis for an article entitled A Plan for Peace.
In 1937 Sanger became chairperson of the Birth Control Council of America and launched two publications, The Birth Control Review and The Birth Control News. From 1939 to 1942 she was an honorary delegate of the Birth Control Federation of America, which included a supervisory role with the Negro Project, alongside Mary Lasker and Clarence Gamble. From 1952 to 1959 she served as president of the International Planned Parenthood Federation; at the time it was the largest private international "family planning" organization.
In the early 1960s Sanger promoted the use of the newly-available birth control pill. She toured Europe, Africa and Asia lecturing and helping to establish clinics.
Sanger died in 1966 in Tucson, Arizona, 8 days shy of her 87th birthday and only a few months after the Griswold v. Connecticut decision, which legalized birth control for married couples in the U.S., the apex of her 50-year agenda.
Sanger's books include Woman and the New Race (1920), The Pivot of Civilization (1922), Happiness in Marriage (1926), My Fight For Birth Control (1931) and an autobiography (1938).
The book, Motherhood in Bondage, is a large compilation of actual letters that were written to Margaret Sanger in desperation by thousands of women who were begging to be given information on how they could prevent unwanted pregnancies for a vast number of different reasons.
Related Links:
Margaret Sanger on Wikipedia