Margaret Chase Smith (Congresswoman/Senator)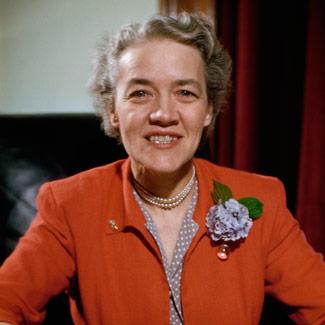 Margaret Chase Smith (December 14, 1897 – May 29, 1995) was a Republican Senator from Maine, and one of the most successful politicians in Maine history. She was the first woman to be elected to both the U.S. House and the Senate, and the first woman from Maine to serve in either.

She was also the first woman to have her name placed in nomination for the U.S. Presidency at a major party's convention (1964 Republican Convention, won by Barry Goldwater).

She was a moderate Republican, included with those known as Rockefeller Republicans. When she left office, Smith had the record as the longest-serving female senator in United States history, ranking 11th in seniority among the members of the Senate, a distinction that has not been surpassed.

Margaret Chase was born in Skowhegan, Maine, on December 14, 1897, the daughter of Carrie Murray and George Emery Chase. As a young woman, she taught school at a one-room schoolhouse, worked as a telephone operator, managed circulation for the Skowhegan Independent Reporter, and served as an office worker with a local textile mill. She became involved with local women's organizations and helped found the Skowhegan Business and Professional Women's Club. In 1930, she married Clyde Smith, a respected political leader in central Maine and served as his administrative assistant. Clyde Smith, a rival of Governor Ralph Owen Brewster, was elected to the US House of Representatives where he served on the Labor Committee and was a key supporter of the New Deal.
Smith first won a seat to the U.S. House of Representatives on June 3, 1940 to fill the vacancy caused by the untimely death of her husband who had called for her election after suffering a major heart attack. She served on the House Naval Affairs committee during World War II. As co-chair of a subcommittee that investigated problems encountered by the War Department in rapidly establishing bases across the nation, she was instrumental in resolving conflicts between states, local jurisdictions and the military.
Smith was elected to the U.S. Senate in 1948 by easily defeating the incumbent Governor, Horace Hildreth, and a former Governor, Sumner Sewall. She served in the Senate from 1949 to 1973. In competition with her bid for a third term in 1960, the Democratic Party put up Lucia Cormier, the Democratic floor leader of the Maine House of Representatives. It was the first time two women ran against each other for a Senate seat.
She was defeated for re-election in 1972 by Democrat Bill Hathaway, the only election she ever lost in the state of Maine. In her last election, Smith had been plagued by rumors of poor health (she had been using a motor scooter around the Senate). A Republican primary challenger taunted her for being out of touch; she did not have a state office operating in Maine. Also, she alienated liberals with her support for the Vietnam War, and alienated some conservatives by voting against Nixon's Supreme Court nominees Clement Haynsworth and G. Harrold Carswell.
Related Links:
Margaret Chase Smith on Wikipedia
More on Margaret Chase Smith on AWR
Margaret Chase Smith Library