Loss Of Haitian Heroines A Blow To The Women's Movement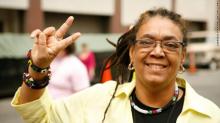 One returned to her Haitian roots, to give voice to women, honor their stories and shape their futures.
Another urged women to pack a courtroom in Haiti, where she succeeded in getting a guilty verdict against a man who battered his wife.


A third joined the others and helped change the law to make rape, long a political weapon in Haiti, a punishable crime.
Myriam Merlet, Magalie Marcelin and Anne Marie Coriolan, founders of three of the country's most important advocacy organizations working on behalf of women and girls, are confirmed dead -- victims of last week's 7.0
earthquake
.
And their deaths have left members of the women's movement, Haitian and otherwise, reeling.


"Words are missing for me. I lost a large chunk of my personal, political and social life," Carolle Charles wrote in an e-mail to colleagues. The Haitian-born sociology professor at Baruch College in New York is chair of
Dwa Fanm
(meaning "Women's Rights" in Creole), a Brooklyn-based advocacy group. These women "were my friends, my colleagues and my associates. I cannot envision going to Haiti without seeing them."
By Jessica Ravitz
CNN
Related links:
Michaëlle Jean (Governor General, Canada)