Lori Kent Talks Visual Arts At TEDxWarsaw
Susan notes: Thanks to TED for making TED Talks downloadable and embeddable, and for providing the biographical information that goes along with them.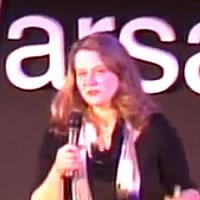 Lori Kent is a New York visual artist, professor of visual studies, and adult art education and a Fulbright Fellow at the Jan Matejko Academy of Fine Arts in Kraków (in 2009 / 2010).

She has specialised in studying creativity in contemporary digital and fine arts, including a project about emerging teaching methods in digital media and design education in Sweden.
She has written broadly in addition to producing her own work and teaching, and has had residencies at the Harvey Foundation in Venice and the Henry Street Settlement in New York City.

Post-Katrina much of her art is focused on community building, memory and place in New Orleans, her native city.

Related Articles