Lisa Witter (Author/Women's Advocate)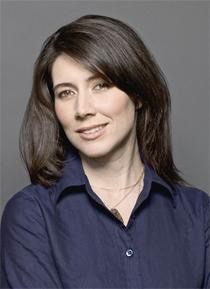 Lisa Witter is the co-author of The She Spot: Why Women are the Market for Changing the World and How to Reach Them (Berrett-Koehler, 2008) and is Chief Strategy Officer of Fenton Communications, the largest public interest communications firm in the country.
Lisa is the Chief Strategy Officer of Fenton Communications where she leads the firms work in innovation, global affairs and women. She is an expert in women's issues, communications, philanthropy, social change and politics.
She has worked for Women for Women International, Nobel Peace Prize Winner Wangari Maathai, International Criminal Court, William and Flora Hewlett Foundation, David and Lucille Packard Foundation, American Medical Association, The Polly Klaas Foundation's Amber Alert campaign, Planned Parenthood Federation of America, U.S. House Speaker Nancy Pelosi, Stonyfield Yogurt and many others.
Most recently she led an awareness and action campaign around New York Times' Nicholas Kristof and Sheryl Wu Dunn's best-seller "Half the Sky: Turning Oppression into Opportunity for Women Worldwide."
She has worked on or volunteered for numerous political campaigns and is focused on elected Democratic women. She served as legislative aide for Seattle City Council Member Peter Steinbreuck.
She is an award-winning social entrepreneur and has co-founded [SheSource.org], Institute for a Democratic Future and EMERGE: Women Leaders for a Democratic Future.
In 2004 she was a contestant on the Showtime reality show by [R.J. Cutler], "American Candidate." She is a frequent public speaker on philanthropy, communications, politics and communications.
She is on the board of directors for Climate Counts, the national advisory board for [MomsRising.org][2], the[ Op-Ed Project], [Vitanna.org] and the communications advisory council for Women for Women International.
The She Spot: Why Women are the Market for Changing the World and How to Reach Them is a guide that offers social change organizations key recommendations for leveraging the untapped power of women for positive change through fundraising, advocacy and the ballot box. It has garnered positive reviews from Publisher's Weekly, Ode Magazine, the Cronicle of Philanthropy, and on Salon.com, BlogHer, and Feministing. Lisa Chen is the co-author.
Witter's work has appeared in numerous print and online publications. Her op-ed "Unfetter Women's Intellect on Campaign Trail" for News Day was picked up and posted across the internet. Her work appears frequently in the Huffington Post. She has also been published in AlterNet, The Seattle Times, The New York Times (letter to the editor) and on the Anderson Copper 360 Blog.
She was honored as an outstanding activist and expert on women's issues by Oxygen.com for her work on a national campaign against privatizating Social Security during the 2000 presidential election. She was also named a 'Rising Star' in 1997 by Washington State Democrats. In 2010 she was named one of the 197 Young Global Leaders by the World Economic Forum.
She was born in Everett, Washington and she studied at the University of California Santa Cruz, Universita di Padova (Italy) and the University of Washington. She is married to Christoph Brem, a German native, and has two boys and lives in Brooklyn, NY.
Related Links:
Lisa Witter on Wikipedia