Lisa Shannon: Champions Congolese Women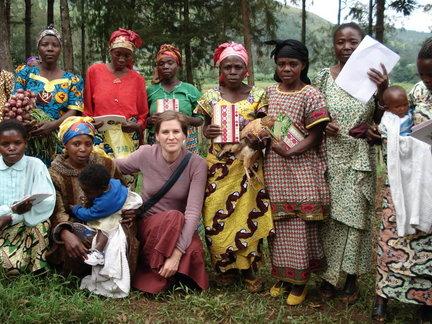 In 2005, Lisa Shannon had one goal: to run the 30.16 miles of the Wildwood Trail and raise enough money to sponsor 31 Congolese women, one for each mile, rounding up.

The Portland woman had learned about the terrors endured by these women on an episode of "Oprah" and how Women for Women International offered them financial assistance, education and counseling for as little as $27 per woman per month.

Shannon finished her one-woman race, raised almost $30,000 and sponsored 80 Congolese women.

But that wasn't enough.

In 2006, she opened her Run for Congo Women to other runners and hoped eventually to raise $1 million.

Five years later, she's still working on that million, but she's exceeded all her other expectations. The Run for Congo Women is duplicated in 11 cities. More than 4,000 people have raised $650,000, enough to sponsor 1,400 Congolese women through Women for Women International.
Saturday race organizers expect 300 runners to turn out for the sixth Portland run.

After a hectic year that's included publication of her first book, "A Thousand Sisters," a seven-city book tour, a Skype appearance on "Oprah," a third trip to the Democratic Republic of the Congo and an intense lobbying trip to Washington, D.C., this past week, Shannon will run the race again.

Violence – killing, kidnapping, rape, civil war – famine and disease have plagued the Congo for years. Efforts to plunder the Congo's minerals have fueled further violence.

In a telephone interview, Shannon talked about how the Run for Congo Women has changed her life.

Click her to read the short, sharp, inspiring interview:
By Nancy Haught
Oregon Live
Picture Credit:
Raymond Kalume

Related Links:
More About The Congo on AWR
Lisa Shannon (Women's Rights Activist / Author)