Lisa Margonelli On The Politics Of Oil
Susan notes: Thanks to TED for making TED Talks downloadable and embeddable, and for providing the biographical information that goes along with them.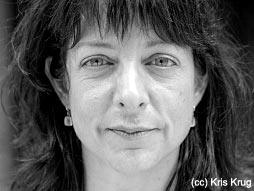 In the Gulf oil spill's aftermath, Lisa Margonelli says drilling moratoriums and executive ousters make for good theater, but distract from the issue at its heart: our unrestrained oil consumption. She shares her bold plan to wean America off of oil -- by confronting consumers with its real cost.

Director of the New America Foundation Energy Policy Initiative, Lisa Margonelli writes about the global culture and economy of energy.

Lisa Margonelli's work examines the promise and possibility of a post-oil world. She has studied California's opportunity to benefit from new technologies and policies, and is looking at the unexpected complications of alternative fuels and energy efficiency.
Margonelli has been published in The Atlantic, New York Times online, Washington Post, Wired and other publications. Her book about the oil supply chain, Oil On the Brain: Petroleum's Long Strange Trip to Your Tank, was recognized as one of the 25 Notable Books of 2007 by the American Library Association.
"Lisa Margonelli has a rare and precious talent. She has drawn a wonderfully readable portrait of the fascinating and surprisingly little-known human face of Big Oil."
Related Articles