Linda Rottenberg (CEO & Co-founder of Endeavor)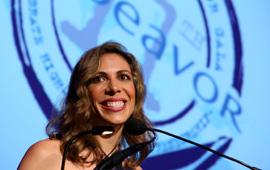 Linda Rottenberg is CEO and Co-founder of Endeavor (non-profit), a non-profit that identifies and supports High-Impact Entrepreneurs in emerging markets.
Since 1997, Linda has pioneered a new model for development that engages the private sector in mentoring and advising promising yet undiscovered entrepreneurs in Latin America, Egypt, India, Jordan, Turkey, and South Africa.
After screening and selecting 448 emerging-market entrepreneurs to date, Endeavor has helped them generate 100,000 jobs and, in 2008, $3 billion.
Endeavor's model also promotes High-Impact Entrepreneurs as role models in their countries, inspiring the next generation of innovators in countries lacking a culture of entrepreneurship.
Prior to co-founding Endeavor, Linda directed the Southern Cone expansion of Ashoka, which broke new ground in the field of Venture Philanthropy by financing social entrepreneurs in over 30 developing countries.
Previously, she designed and launched the first interdisciplinary Masters of Law program in Argentina and managed the Yale Law School-U.S. A.I.D. Linkage Programs in Latin America.
Linda is the subject of Harvard Business School and Stanford Graduate School of Business case studies and in February 2009 delivered the keynote address at Harvard Business School's Social Entrepreneurship Conference.
She has been featured in publications including Time, The Wall Street Journal, Inc., Forbes, Fast Company and the paperback edition of Thomas Friedman's The World is Flat in which he calls Endeavor "the best anti-poverty program of all."
Related Links:
Linda Rottenberg on Wikipedia
Endeavor.org