Life is a Gift
By Diane Dutton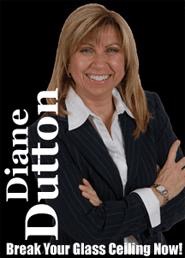 Many times during my life, I have read the phrase "Success favors the bold", but I was never sure what that meant. Now I know.
My story is all about being bold and walking away from the establishment over and over again.
As a young high school student I knew my career would be in the field of accounting. The acorn doesn't fall far from the tree, and in 1970s Brooklyn, New York, when your dad is an accountant, the last thing you as his daughter would do is pursue a singing or acting career. Good for me that I had a passion for business.
So I did what was expected, lived at home and attended Pace University, NYC Campus. Certainly commuting was the way to go, no away school for me!
After, what was, in reality, a wonderful college experience; I pursued the traditional route of 'BIG 8" CPA firm position. I wanted what most aspiring CPAs wanted at that time, to be a partner in a big firm. As any woman in trying to "make it" it accounting in the late 70s would know, as much gender bias as was possible existed in the accounting profession in the Wall Street environment.
In my search for a life with some new and exciting adventures, I moved west to Southern Nevada. The change for me included weather, the new city and an exciting business culture. Well, not necessarily. The big town environment masked the small town business culture. If you did not fit in the "gaming" industry, you probably didn't fit.
Fast forward 28 years to today. After working in public accounting and private industry, well, several of them, I continued to search for what was missing in my career. The answer could be found in my desire to take a leap of faith. After all, Success Favors the Bold! I left the world of full–time employment to pursue the pieces of my career that were sorely missing: writing, speaking, mentoring, freedom from the employee status I had maintained for close to three decades.
So today, I experience a different kind of success. I am a published author. I speak on issues from financial success to women breaking the glass ceiling. I own my own companies: Executive Solutions and CK Systemz. I develop patented software for small business, provide CEO training as a virtual CFO, teach at the university level and mentor women through some of my coaching programs.
All of these experiences are in their infancy, after all if you spend 28 years in Phase I of your career, spending 16 months in Phase II is ony the beginning.
I am creatively happier than I have ever been, and because of this I continue to move forward in faith that all the harmonic pieces of my life, relationships, physical, spiritual, mental and financial are growing in harmony.
I can't wait to write the next chapter!
Related Links:
Business Women Speak