Lakshmi Pratury On Letter-Writing
Susan notes: Thanks to TED for making TED Talks downloadable and embeddable, and for providing the biographical information that goes along with them.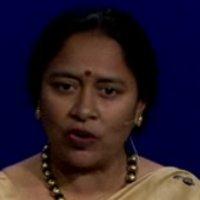 Lakshmi Pratury remembers the lost art of letter-writing and shares a series of notes her father wrote to her before he died. Her short but heartfelt talk may inspire you to set pen to paper, too.
After two decades in marketing, venture capitalism and social entreprenuership, Lakshmi Pratury turned her focus toward linking her home country of India more tightly with the American community. Her firm, Ixoraa Media, runs meetings and events to spark dialogue and make connections.
Pratury worked at Intel for 12 years as a marketer and evangelist, then moved to a VC firm, Global Capitalist Partners. At GCP, she focused on connecting India's legendary software-development community with US tech. She began to focus more strictly on relationship-building with her move to the America India Foundation, where she founded the AIF's Digital Equalizer program, offering technology education to some 80,000 children and 2,000 teachers in India.
She also launched the AIF Summit for social entrepreneurs from India. At Tamarind Grove, she plans events and meet-ups that will more tightly link the Indian and American tech communities.
Related Articles