Kyla Sews For Kenya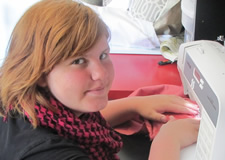 Article by Ella Kirk, Mom and teacher.
As a teacher, I think that it is vitally important to help empower the younger generation to have a positive impact on the world and to be global citizens.
As a parent of a daughter who has encountered extreme personal struggles, I find it is essential that I support her in all of her passions and for Kyla those are becoming a humanitarian and sewing.
As young as age 8, I can remember Kyla volunteering her time and efforts to raising money for various charities.
In school she always chose to do projects on change agents like Terry Fox, Anne Frank and Craig Kielburger.
After declaring that she was going to become a more active global citizen, she promptly started donating all of her savings to help introduce agricultural programs in developing countries.
In 2010, at the age of 12, Kyla's life changed. Due to private struggles, she was forced to change school districts and rebuild her life. Upon starting her new school, where I work, Kyla joined the Me to We Club, a group that really helped Kyla heal. She instantly became passionate about raising funds for agricultural programs in developing countries.
Soon after she started sewing classes and found that she could use her amazing talents as a seamstress to raise funds for other causes. She then decided that she didn't want to just raise money, she wanted to become an active participant in the changes that she was attempting to fund by raising enough money to travel to a developing country with the Me to We Foundation Youth Volunteer Program.
After selling hundreds of pillows at her school and in her community, I created a website www.pillowsandmore.ca to sell Kyla's beautiful indoor/outdoor/children's/tooth fairy pillows, pet beds and fashionable bracelets. Every week she has new amazing creations sewn from the highest quality textiles. And she has a custom fabric store, where you can choose fabric, a pillow case size, and an insert to create the perfect look.
Kyla's goal is to raise enough funds by the summer of 2012 to travel to Kenya to build the foundation for an educational system that can offer endless opportunities to young people. And then volunteer with the Peace Corps, as soon as she is old enough!
Check out her site at www.pillowsandmore.ca and purchase some beautiful textile items or make a donation, join her FB Fan Page at pillowsandmore.ca, follow us on Twitter (@ella_kirk), or just spread the word. Any support, at all, would be greatly appreciated! Help keep a young humanitarian's passion alive.
Website: www.pillowsandmore.ca
Facebook Page
Twitter: @ella_kirk
Email: This email address is being protected from spambots. You need JavaScript enabled to view it. or This email address is being protected from spambots. You need JavaScript enabled to view it.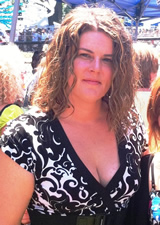 As a young single mom, Ella Kirk worked her way up from the streets, through university, and many other adversities, to become a passionate middle school teacher working in Toronto and a proud mother of 2 teens.
She has an extreme love of volunteering that only parallels working with students and supporting her children's dreams. Currently, she is helping to spread the word of her daughter, Kyla's, fundraising work. You can contact her on Facebook and Twitter.