Kim Cameron: Music To Give Back To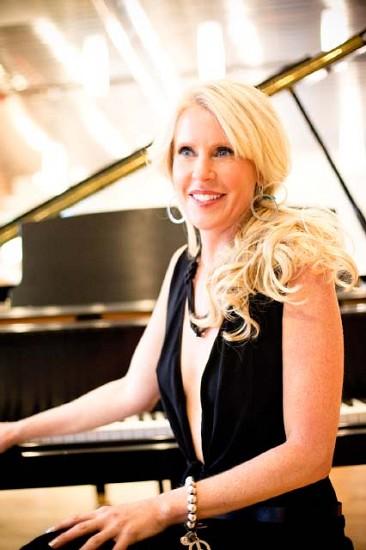 In 2006, Kim Cameron's brother-in-law was diagnosed with cancer in his kidneys. The cancer was severe, and the family wasn't sure if the operation, which would cost him one of his kidneys, would be enough. A thought struck her during his 6-hour surgery: Life is short.

Cameron realized she didn't want to be in his situation one day, regretting she hadn't taken a chance and pursued her dream: writing and performing, living and breathing music.

She had always had a passion for music. Living in southern California, Cameron had access to everything in the arts, whether that was a marching band, theatre, choir, or rock & roll.

The weekend of her brother-in-law's surgery, she began to turn her dream into reality, and, at the age of 40, wrote her first song.

Songwriting became a positive outlet for expressing how much her brother-in-law and his battle with cancer had made an impact on her life.

"My goal with writing and singing," Cameron explains, "is to help take people away from a frustrating day or sad place and bring them back home – and home is not a location, but rather a place that you can feel grounded and safe."

After a year of hard work, Cameron finished her first album and quit her full time IT job. She had found herself pursuing a career in the corporate world in an effort to pay off bills from college. Now frustrated by the dreams she had compromised, Kim embraced her true passion with full force.

"I took a deep look at what drives me, what makes me happy, and what fulfills my soul, and it was not living a corporate working life," she says.

While obviously not an easy second career to break into, it has certainly been the most rewarding for the 43-year-old singer/songwriter.

"I have been able to meet people around the country, perform for our veterans and feel like I am making a true contribution to society."

Cameron soon found others with dreams and talent similar to her own. The Side FX band officially came together in 2007 when they began expanding their basement jamming sessions to local restaurants, benefits and venues.

Contradictions, the band's debut, was well received and featured on hundreds of US and international radio stations. The album was full of emotion since Kim's songs were inspired by her family's battle against cancer.

This one, called Scattered Music, speaks to life's choices:


The band's sophomore album, Turning Point, was just that, and solidified Side FX's reputation as a new force on the East Coast music scene. Positive feedback and increasing press exposure kept coming, including features on American Airlines, MTV, Sirius, Great Americans, Plum TV, District Dish TV, Coffee Network, Music Connection Magazine, Pulp Magazine, INK 19, Command Performance, as well as sold out shows at Blues Alley in D.C. and several live radio performances.

Cameron was recently chosen as Enchanting Women's "October 2010 Woman of the Month" for her work with veterans and young women.

With her musical journey now in full gear, it was time for Cameron to give back to the world that was embracing her new career. She had a new goal: helping veterans to enjoy their post-war lives. On a flight to Washington DC, she had met a soldier returning from Iraq after his second tour in the Middle East. His story touched her deeply and changed her life.

"What struck me was that he was a college graduate, very smart, and could have easily taken an easy route with a corporate job," Cameron remembers. "He said he wanted to serve the country because he felt it was something he wanted to do personally.

But after all the work, he said, getting injured and coming back, nothing had changed. He said nothing he had done seemed to matter, and it just struck my soul.''

Their connection and the soldier's story was enough for Cameron to use her musical influence for a special cause. Side FX now has over two years of volunteering under their belts, performing for veterans on the east coast, as well as a stop at the Veterans Medical Center in Miami and Walter Reed in Washington D.C.

The shows bring a little piece of home to the patients at the hospitals, and entertainment is important to veterans recuperating from physical and emotional injuries. Cameron is an avid supporter of veteran-related organizations such as Mail Our Military, Wounded Warriors/Fisher House, as well as the March of Dimes, Children's Inn, American Heart Association, and Koman's for a Cure.

Kim Cameron is an inspiration and proof that it's never too late to set a goal and make a dream come true. She went from a career in which she was never completely happy to using her talent, music and influence to make a difference in the lives of people who need it.

Along with continuing to make veterans smile, Cameron is working on a campaign to empower young women. She has plans for benefit shows at children's hospitals and looks at the future with hope. She is determined to make her life, though it may be short, into one that makes a difference.

Related links:
Kim & SideFX Band Website