Kickass Canadian Muslim Women Challenge Stereotypes With Calendar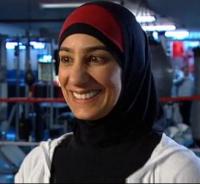 Susan notes: the story says the calendar would be sold to raise money for charity. However, I've been to the Islamic Family And Social Services Association
website and am unable to find how to order the calendar. I've emailed asking for information, but no answer so far....
A Grade 3 teacher with a passion for kickboxing is one of 13 Edmontonians featured in a new calendar celebrating local Muslim women.
Noreen Bashir will be seen in the calendar wearing boxing gloves and a sports hijab at the gym where she works out almost everyday. The martial arts champion first took up the sport as a way to exercise while recovering from a car accident.
"I've ... never been part of any kind of project like that before especially in our community and I'm actually very proud to represent the Muslim women of Edmonton," said Bashir.
The calendar is the brainchild of local photographer and filmmaker Shazia Javed. The women featured in the calendar were nominated by the local Muslim community and include medical students at the University of Alberta, a local youth worker and a pizzeria owner who raised triplets on her own. Some, but not all, wear head coverings.
"I chose the women which represented a wide spectrum," Javed said. "To me, it's all about what they do, rather than for what they wear, and whatever they choose to wear doesn't hinder them from doing anything."
Click here to read full story:
By CBC Edmonton

Related links:
More About Arab Women on AWR
Islamic Family And Social Services Association