Kick-Ass Homecoming Queen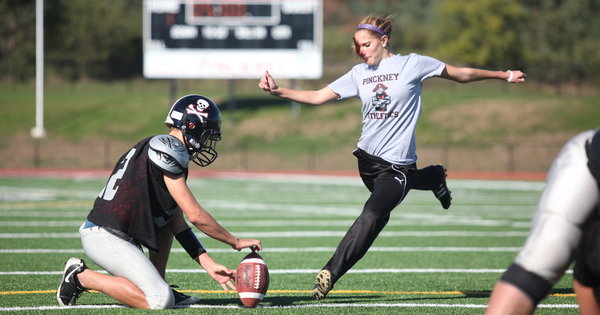 From The New York Times.
In his 18 years at Pinckney Community High School, Jim Darga, the principal, said, the homecoming queen had always been crowned at halftime of the school's football game. Never before, though, had she had to be summoned from the team's locker room.
And that was just the beginning of Brianna Amat's big night.
If being named homecoming queen is a lifetime memory for a high school student, so, too, is kicking a winning field goal. For Amat, 18, they happened within an hour of each other.
On Friday, with Pinckney leading powerful Michigan rival Grand Blanc, 6-0, at the half, Amat, the first girl to play football for the school's varsity, was asked to return to the field. When she arrived, she was told that her fellow students had voted her queen. When the tiara was placed on her head, she was wearing not a dress, like the other girls in the homecoming court, but her No. 12 uniform, pads and all.
A short while later, with five minutes to play in the third quarter, Amat was called to the same field to attempt a 31-yard field goal. She split the uprights.
The kick proved decisive as Pinckney held on for a 9-7 victory against a Grand Blanc team that had come into the game ranked seventh in the state in its division. It also earned Amat the nickname the Kicking Queen.
The twin accomplishments were still sinking in Monday, said Amat, a senior who has played soccer since she was 3 but who tried out for the football team only last spring, at her soccer coach's suggestion.
"It's just starting to hit me today," she said in a telephone interview. "The guys were congratulating me, but without them, I wouldn't even have gotten close" to making the kick.
"It was pretty special," said Darga, who watched Amat win her crown and the game and called her an "accomplished athlete."
Before Friday, Darga said, Amat was known primarily as a student with a perfect 4.0 grade average who was involved in student government, serving as treasurer.
Although the high school has had a female player on its junior varsity team, Amat is the first girl to make the main squad in Pinckney, a village of 2,000 17 miles from Ann Arbor. The school, which draws from several rural communities, has 1,440 students.
Amat's prowess as a defender on the school's girl's soccer team led to the invitation to try out as a football kicker. She competed against two male students, including one who wound up as the team's punter.
"She won the position on her own merit," Darga said. "She won it outright."
Amat had no previous football experience before joining the team in summer training. But she spent hours kicking balls in a field to her father, Ronaldo, a window and door salesman, and her brother Brandon, a University of Michigan student.
Amat said her father and mother, Nanci, who works at the high school, approved of her playing.
"They've been really supportive of everything I do," she said.
Amat made her debut during the Pirates' first game this season, when she was called in to kick an extra point after a touchdown.
"The whole warm-up, I was nervous," she said.
She said she stayed calm during the kick but that afterward, "my heart was beating in my ears from the adrenaline."
Amat said she had not needed much adjustment to become Pinckney's first female varsity football player. She was surprised at how quickly she was made to feel like one of the guys.
"They've been so accepting of me, it's as if I've always been their teammate," she said.
The main drawback has been the separate locker room provided by the school, which keeps her apart from the male players.
"After the games, they're celebrating in their locker room and I'm by myself in my locker room," she said