Kelly-Anne Lyons (Actress)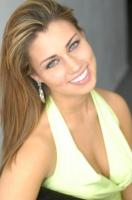 Kelly-Anne Lyons (who plays the role of Chelsey Pucks in the online video series called Chelsey OMG, two excellent segments of which AWR features here), grew up along the East Coast of the USA.

She spent the younger part of her childhood in Winston-Salem, North Carolina, her adolescence and teenage years in Basking Ridge, New Jersey, and attended University in New York City. Her parents, Ed and Kathleen, reside in Basking Ridge, New Jersey. Her younger brother Jonathan attends University in Pennsylvania.

Lyons was a dancer from the age of three. She studied on scholarship at the North Carolina School of the Arts, and then at the New Jersey School of Ballet. At 16, she became a member of the New Jersey Ballet Junior Company.

Alongside dance, she attended Ridge High School, where she maintained honor role status, was very active in sports (field hockey, ice hockey, and lacrosse), student council, and numerous clubs. Her favorite part of high school was performing in all the school musicals and plays.
She was very active in her town and state as well, serving as a youth council member on many of the boards, and teaching dance to people of all levels and age. After high school, she began University as a double Dance and Theater major, but later switched to Psychology, as she preferred to pursue her passions with specified training outside of school in NYC. She continued to take dance, acting, and voice lessons, while receiving a BA degree in Psychology with Honors, and working as assistant to an Executive Producer and owner of an advertising agency.
While in New York City, she began modeling alongside acting. She slowly began to focus less on dancing and singing, more on acting and modeling. Three months before graduating, she met with a London modeling agency that had a small acting division. She moved over to join them a week after graduation. She enjoyed the modeling work and worked for some impressive brands such as Special K, The Body Shop, Fila, John Lewis, and the BBC.
However, she was disappointed the agency did not receive many acting castings. She felt that acting was her true passion and despite loving the modeling work and planning to continue with it, she missed acting during her first year in London.
Ironically, as her first year was ending and she planned to focus more on acting, Channel X was searching for potential Chelsey OMG actresses on the UK's Professional Acting website, Spotlight. Lyons was one of the girls they found and asked to audition, along with over 300 others.
Lyons was ecstatic to win the role of Chelsey Pucks. She has enjoyed working with Channel X and Nat Coombs to develop the quirky character. The show has required her to act in scripted sequences, improvise with the public, and narrate each episode. She has also enjoyed exaggerating some of her own personal life stories to create some of the "What's On My Mind" clips.
She loves living in London and traveling to new places. She currently resides in Clapham (London).
Related links:
How NOT To Do A Job Interview
shudoo.co.uk
Entertainment Focus