Kay Owen (Wife/Mom/Believer/Caregiver)
Posted by Vonnie Maddox
August 21, 2010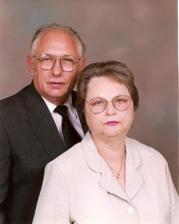 Today is Momma's (Kay Owen's) birthday. The first one since her death on July 3rd, 2010. She would have been 67 today.
It's a bittersweet time for the family. Sad, because we miss her, but sweet because of the wonderful memories we are so blessed to have.
Momma and Daddy were married 47 years, had a fairytale marriage, and were the happiest most genuinely devoted couple I have ever seen. They had two children, four grandchildren, and one greatgrandchild. As with most wives, mothers, and grandmothers, we were all immensely loved and adored by our Momma. The feelings were likewise.
Momma had a hard life, but boy was she a trooper. She suffered with diabetes for 46 years, dealt with kidney dialysis, a kidney transplant, and then dialysis again. Her diabetes was out of control, kidneys didn't function well, and she was very sick for many years. It was a common thing for one of us to go see her and find her unconscious on the floor.

My children learned how to take care of her in those instances, and call who needed to be called, including the ambulance. They learned to take care of their grandmother in ways that most people would never even think about. 


Caring for her in these ways was both a blessing and a hard thing to deal with. A blessing because seeing her and having to care for her in that way, really built some close bonds that would otherwise never have been built. We all had that special bond with her, but also we learned how strong she was, how much she loved us, and what she went through daily to have just one more day with her beloved family. This helped us to know that we are special, just as she was.

Without all of the hardships, I don't think we would have seen just how special we were to her. That leaves us with a lot of love, adoration, and a neverending respect for her. 

Momma loved the Lord. She dedicated her life to helping others and serving him. She was always the first one to offer to stay with sick people in the hospital, at their home, or take care of their children until they could. These were people of all ages; babies, children, adults, and elderly.

Momma always said that if she could be there for them, care for them, and take away a little loneliness and pain, and help out the family, then she was doing God' work, it was the right thing to do, and always her pleasure. Even when I didn't get along with Momma, I completely respected this about her. Caring for all people the way she did was really amazing to me. She never tired of it.

I remember for months (or maybe it seemed like it) her staying nights, sleeping in a chair, with people that she sometimes didn't know that well; caring for them and giving their family members a much-needed break. 

She loved children. She was the Director of the Nursery at her church for 26 years. She practically raised all the young people there. If she didn't care for them at church, she often cared for them in our home or their home.

Another way she lovingly and tirelessly did God's work was to care for her dearest friend Laura's foster children. Laura had a lot of foster children throughout the 30 years that they were friends. Often they were special-needs children. Momma learned how to hook them up to heart monitors, give them different kinds of medicines, and comfort them in her very special way.

Even if a child was very special and it didn't seem like they noticed the care they got, Momma never tired at trying to reach them. I think she reached each and every person she cared for. Caring for others was her God given gift. She took special notice of it and made the most of it. 

Each person in our family has our special moments to remember. We all feel very blessed to have had her for as long as we did.

She was a very sick lady for many years, but she gladly dealt with it for us. The last few years of her life she was very ill, mostly bedridden, and in a wheelchair. She never thought about herself and how hard it was for her, but instead thought about how hard it was on my Daddy and us caring for her. No mother wants her husband, children, or grandchildren to have to care for them in the ways we had to care for her.

She was the caregiver, not the one who accepted it. But she never complained. She just held her head up, prayed a lot, and made the most of it. I really believe she tried to make it easier on us. But we didn't mind. We loved her and would do it all over again gladly, without a second thought. After all that's how she would have cared for us. She never thought about how hard it was, or how much trouble it was to care for anyone. She just did it with a happy and loving heart.

The last week of her life was really hard. She went into hospital by ambulance sick from something, we didn't know what. She died for 15 minutes and came back. She almost died again that night with the family around her. She had barely any vitals and we were just waiting. Again, she came back. We finally found out what was wrong with her, and started treating it. She was getting better.

But then the time came for her to do her hemo dialysis (which was a new thing for her). They cleaned her blood twice, which left a lot of fluid on her. Then the third time they drained her. Her poor little body couldn't take it. So we finally had to make the decision to make her comfortable and let her go. We had all made peace with the decision, and knew that's how she would have wanted it. So we all gathered around her, and talked her through it.

At the very end, it was Daddy, me, and my brother holding her hands and talking to her. I think that was the best we could give her, and she would have liked it. So again, we had peace with that.

I remember the most incredible silence on that day. It was as if all the world and the heavens were standing still to allow a beautiful loving lady that loved God walk into heaven. 


It had been raining the entire week, but on the way home that day my daughter looked up and saw the most magical rainbow and sun shining through the clouds. I told her it was Maw Maw's way of saying all is as it should be now. So that's a nice memory.

Her viewing and funeral both were standing room only. They were fitting goodbyes and spoke volumes about the kind of woman that she was. So again, I think things were as she would have liked them. We had peace with that.

Today, August 21, is Momma's birthday. It feels strange. It's quiet again. We feel sad because we miss her. But happy because we were blessed to have her for so long, and to be a part of her family and life. 


I know we will get through this day with a lot of remembering and tears. I guess that's also as it should be.

God bless you Momma!