Kaki King Rocks Out To "Pink Noise"
Susan notes: Thanks to TED for making TED Talks downloadable and embeddable, and for providing the biographical information that goes along with them.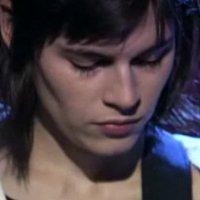 Kaki King, the first female on Rolling Stone's "guitar god" list, rocks out to a full live set at TED2008, including her breakout single, "Playing with Pink Noise." Jaw-dropping virtuosity meets a guitar technique that truly stands out.
Kaki King combines jaw-dropping guitar work with dreamy, searching songwriting. Her percussive technique (guitar geeks compare it to Preston Reed's; everyone else compares it to Eddie Van Halen's) drives her songs forward, while layers of overdubs and her own soft vocals create a shimmering cloud of sound.
King's work on the soundtrack for 2007's Into the Wild was nominated for a Golden Globe, along with contributors Michael Brook and Eddie Vedder. Her newest album, Dreaming of Revenge, was released this past year.
Related Articles