Kainat Soomro Refuses To Be A Rape Victim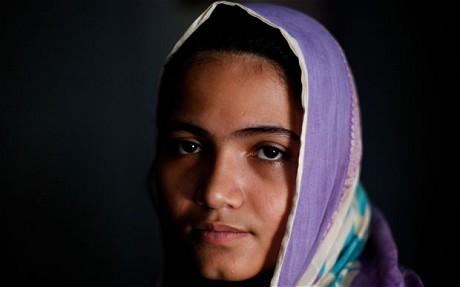 Kainat Soomro should have stayed silent. After being battered and gang raped for four days her traditional, conservative village in rural Pakistan expected the 13-year-old girl to keep her story to herself.
She refused.
Since then her dark brown eyes and striking features have become a staple of the country's newspapers and television news channels, as she fights for justice and a new voice for women in a deeply conservative country.
Nothing has stopped her. Not the murder of her brother, threats from the men she says raped her or a death sentence imposed by the elders of her village, Dadu, in Sindh province.
"This is what happens in Pakistan," she said. "Poor women have no chance. These men set the rules and think they know how to deal with these issues. They don't."
Instead of bowing to the local summary justice, her family fled to the sprawling port city of Karachi.
That was almost four years ago. Today Kainat is a vocal campaigner for women's rights as she struggles for justice in her own case and tries to overturn the traditional, conservative culture that expects rape victims to suffer in silence.
The young woman cuts a familiar figure at press conferences and on television talk shows, her dark hair covered in a lilac print dupatta as her confident words of Urdu belie her lack of schooling. Her pretty eyes convey a quiet dignity as they stare from the front pages of Pakistan's newspapers.
This is a society where rapes often remain unreported – through shame, intimidation or bribery – and domestic violence is not an offence. Kainat is campaigning to become a role model and a symbol of resistance for a new generation of women.
But her position has not come without a huge cost. Her family cannot return to their house in Dadu. Instead they rely on charity in Karachi, living in a cramped two-room apartment.
Two of her brothers have been in and out of jail, accused of everything from fraud to murder. Two of her sisters have lost husband or fiancé, such is the stigma attached to rape – or speaking out about rape.
And this year she buried Sabir, her 24-year-old brother whose battered body was found after he went missing in March. She believes his murder was related to her case.
"I will not step backwards and will always fight for my rights," she said, sitting cross legged on a thin quilt spread on the floor of her family's Karachi apartment, as she prepared for yet another television interview later in the day. "I will not accept money or back down over this like other women have done. It is much too important."
Her ordeal began in January 2007. Kainat's sister had given birth to a baby girl so she headed to the shops where she planned to buy gifts for her new niece.
She never made it. On the way there she was attacked. Rough arms pushed a handkerchief soaked in what she thinks was chloroform over her mouth and nose.
"Every time I was conscious I would scream for them to release me and then they would just knock me out again," she said.
Men came and went and she was vaguely aware of bodies on top of her. She eventually awoke in desperate pain to find the loose fabric of her shalwaar kameez ripped from her body. There was no one around so she took her chance and fled, realising that she had been kept in staff accommodation at the local hospital.
It was only after she was reunited with her family that she learned she had been missing for four days.
Police at first refused to register her case, saying the men she was accusing were well-connected. It took a court order before they would take her seriously. It still took almost three years for her case to be heard, during which time Kainat lobbied government ministers, the country's chief justice and staged a hunger strike.
Her efforts were not enough to prevent all four defendants being acquitted in May.
In a country where DNA evidence remains a pipe dream, the case came down to her word against theirs. The defence claimed to have a marriage certificate proving Kainat was married to one of the attackers and said the rape allegation had been fabricated. That evidence was thrown out, but the judge said reasonable doubt remained.
Kainat's lawyer, Faisal Siddiqui, said acquittals were common in cases that pitted ill-educated, rural women against Pakistan's chauvinist establishment. But he said Kainat's courage was unprecedented.
"We have email and TV feminists – women who campaign and say the right things - but I would say she is one of a new breed of grass-roots feminists," he said. "In the past these rape cases would be brought because of pressure from relatives.
"In cases like Kainat, it's the rape survivor herself."
The example of Kainat, he said would show that women had access to the courts – even if justice remained elusive.
An appeal has been filed in the High Court.
Rape is a huge problem in Pakistan's villages where traditional values mean women have little role in community life. Gang rape is used as a weapon to settle scores, with women expected to suffer their fate without disrupting the brittle harmony of village life.
Figures collected by a local charity suggest 928 women were raped in 2009 but no-one believes that figure is anything but the tip of an iceberg.
Click here to read the full story:
By Rob Crilly
The Telegraph
Related Links:
More About Pakistan on AWR