Josephine Baker (Dancer/Singer/Actress)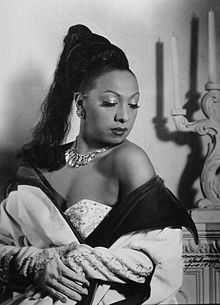 Josephine Baker (June 3, 1906 – April 12, 1975) was an American dancer, singer, and actress who found fame in her adopted homeland of France.
She was given such nicknames as the "Bronze Venus", the "Black Pearl", and the "Créole Goddess," the first African American female to star in a major motion picture, to integrate an American concert hall, and to become a world-famous entertainer.
She is also noted for her contributions to the Civil Rights Movement in the United States (she was offered the unofficial leadership of the movement by Coretta Scott King in 1968 following Martin Luther King, Jr.'s assassination, but turned it down), for assisting the French Resistance during World War II, and for being the first American-born woman to receive the French military honor, the Croix de guerre.
Baker was born Freda Josephine McDonald in St. Louis, Missouri, the daughter of Carrie McDonald. Her estate identifies vaudeville drummer Eddie Carson as her natural father.
A biography written by her foster son Jean-Claude Baker stated:
" … (Josephine Baker's) father was identified (on the birth certificate) simply as "Edw" … I think Josephine's father was white—so did Josephine, so did her family … people in St. Louis say that (Josephine's mother) had worked for a German family (around the time she became pregnant). (Carrie) let people think Eddie Carson was the father, and Carson played along … (but) Josephine knew better."
Her mother, Carrie, was adopted in Little Rock, Arkansas in 1886 by Richard and Elvira McDonald, both of whom were former slaves of African and Native American descent.
When Baker was eight she was sent to work for a white woman who abused her, burning Baker's hands when she put too much soap in the laundry. She later went to work for another woman.
Baker dropped out of school at the age of 12 and lived as a street child in the slums of St. Louis, sleeping in cardboard shelters and scavenging for food in garbage cans.
Her street-corner dancing attracted attention and she was recruited for the St. Louis Chorus vaudeville show at 15. She then headed to New York City during the Harlem Renaissance, performing at the Plantation Club and in the chorus of the popular Broadway revues Shuffle Along (1921) with Adelaide Hall and The Chocolate Dandies (1924).
She performed as the last dancer in a chorus line, a position in which the dancer traditionally performed in a comic manner, as if she was unable to remember the dance, until the encore, at which point she would not only perform it correctly, but with additional complexity. Baker was then billed as "the highest-paid chorus girl in vaudeville."
On October 2, 1925, she opened in Paris at the Théâtre des Champs-Élysées, where she became an instant success for her erotic dancing and for appearing practically nude on stage.
After a successful tour of Europe, she reneged on her contract and returned to France to star at the Folies Bergères, setting the standard for her future acts. She performed the Danse sauvage, wearing a costume consisting of a skirt made of a string of artificial bananas.
Baker's success coincided (1925) with the Exposition des Arts Décoratifs, which gave birth to the term "Art Deco", and also with a renewal of interest in ethnic forms of art, including African. Baker represented one aspect of this fashion.
In later shows in Paris she was often accompanied on stage by her pet cheetah, Chiquita, who was adorned with a diamond collar. The cheetah frequently escaped into the orchestra pit, where it terrorized the musicians, adding another element of excitement to the show.
After a short while she was the most successful American entertainer working in France. Ernest Hemingway called her "… the most sensational woman anyone ever saw."
In addition to being a musical star, Baker also starred in three films which found success only in Europe: the silent film Siren of the Tropics (1927), Zouzou (1934) and Princesse Tam Tam (1935). She also starred in Fausse Alerte (English title: The French Way) in 1940.
At this time she also scored her most successful song, "J'ai deux amours" (1931) and became a muse for contemporary authors, painters, designers, and sculptors including Langston Hughes, Ernest Hemingway, F. Scott Fitzgerald, Pablo Picasso, and Christian Dior.
Under the management of Giuseppe Pepito Abatino—a Sicilian former stonemason who passed himself off as a count—Baker's stage and public persona, as well as her singing voice, went through a significant transformation.
In 1934 she took the lead in a revival of Jacques Offenbach's 1875 opera La créole at the Théâtre Marigny on the Champs-Élysées of Paris, which premiered in December of that year for a six month run. In preparation for her performances she went through months of training with a vocal coach.
In the words of Shirley Bassey, who has cited Baker as her primary influence, "… she went from a 'petite danseuse sauvage' with a decent voice to 'la grande diva magnifique' … I swear in all my life I have never seen, and probably never shall see again, such a spectacular singer and performer."
Despite her popularity in France, she never obtained the same reputation in America. Upon a visit to the United States in 1935-1936, her performances received poor opening reviews for her starring role in the Ziegfeld Follies and she was replaced by Gypsy Rose Lee later in the run.
Baker returned to Paris in 1937, married Frenchman Jean Lion, and became a French citizen.
Her affection for France was so great that when World War II broke out, she volunteered to spy for her adopted country. Baker was so well known and popular with the French that even the Nazis, who occupied France during World War II, were hesitant to cause her harm.
Baker's agent's older brother approached her about working for the French government as an "honorable correspondent" -- if she happened to hear any gossip at parties that might be of use to her adopted country, she could report it. Baker immediately agreed, since she was against the Nazi stand on race not only because she was black but because her husband was Jewish.
Her café society fame enabled her to rub shoulders with those in-the-know, from high-ranking Japanese officials to Italian bureaucrats, and report back what she heard.
She was able to do things such as attend parties at the Italian embassy without any suspicion falling on her and gather information that turned out to be useful. She also helped in the war effort in other ways, such as by sending Christmas presents to French soldiers.
When the Germans invaded France, Baker left Paris and went to the Château des Milandes, her home in the south of France, where she had Belgian refugees living with her and others who were eager to help the Free French effort led by Charles de Gaulle from England.
As an entertainer, Baker had an excuse for moving around Europe, visiting neutral nations like Portugal, and returning to France. Baker assisted the French Resistance by smuggling secrets written in invisible ink on her sheet music.
She helped mount a production in Marseille on the south coast of France to give herself and her like-minded friends a reason for being there. She helped quite a lot of people who were in danger from the Nazis get visas and passports to leave France.
Later in 1941, she and her entourage went to the French colonies in North Africa; the stated reason was Baker's health (since she really was recovering from another case of pneumonia) but the real reason was to continue helping the Resistance.
From a base in Morocco, she made tours of Spain and pinned notes with the information she gathered inside her underwear (counting on her celebrity to avoid a strip search) and made friends with the Pasha of Marrakesh, whose support helped her through a miscarriage (the last of several) and emergency hysterectomy she had to go through in 1942.
Despite the state of medicine in that time and place, she recovered, and started touring to entertain Allied soldiers in North Africa. She even persuaded Egypt's King Farouk to make a public appearance at one of her concerts, a subtle indication of which side his officially neutral country leaned toward. Later, she would perform at Buchenwald for the liberated inmates who were too frail to be moved.
After the war, for her underground activity, Baker received the Croix de guerre, the Rosette de la Résistance, and was made a Chevalier of the Légion d'honneur by General Charles de Gaulle.
In January 1966, she was invited by Fidel Castro to perform at the Teatro Musical de La Habana in Havana, Cuba. Her spectacular show in April of that year led to record breaking attendance. In 1973, Baker opened at Carnegie Hall to a standing ovation. In 1974, she appeared in a Royal Variety Performance at the London Palladium.
Related Articles