Johanna Kwedhi: Namibia's First Female Trawler Captain
Slight, pretty, sharp-eyed, and quietly firm about things - Johanna Kwedhi is Namibia's first female trawler captain. She is a living example of the empowerment of women in Namibia.

Johanna captains the Kanus, one of the largest trawlers operating from Luderitz Harbour, an old port rebuilt for today's fishing boats. It's her responsibility not only to navigate a coastline infamous for shipwrecks, but to bring in a profitable catch.

And this is an industry not used to women being, literally, at the helm.

"My responsibility is to command," Johanna says, working her six-hour shift at the bridge with her male chief mate and second mate.

"I have 23 crew members on board, they are all under my authority. My shipmates on board the vessel are wonderful. Each and everybody has his duty."

And then she adds, "We have procedures we have to follow, and if we don't we will have to see what happens."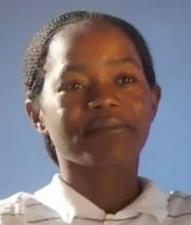 "She is the one who gives the order, what have to be done for the day," says Chief Mate Aaron Alweendo. "The orders came from him - I mean from her!"

Johanna trained with the Namibian Fisheries Institute, and was appointed skipper after serving for eight years as an officer and chief mate under a Spanish captain. Her company now has four more women doing similar training.

"This is a man's world," says Bosun Evalisto Shipo. "Since the beginning, it's been a man's world. If your leadership is not appropriate for the crew, you will not earn their respect."

And Johanna has done - while breaking another barrier too. "We have never seen a black person in charge of a ship," says Evalisto Shipo. "It has always been a Spanish person actually."

Johanna hasn't entirely sacrificed a personal life, though it's been difficult. She has a 14-month-old son, Innocent. Her cousin Auguste takes care of Innocent while Johanna is at sea, which is most of the year.

"I met Innocent's father on land," she says, "although both of us work at sea. We didn't get the opportunity to work together on the same vessel because we have the same rank."

Click here to read the full story:
By Steve Bradshaw
The BBC