Joan Ganz Cooney (Television Producer/Founders of The Children's Television Workshop)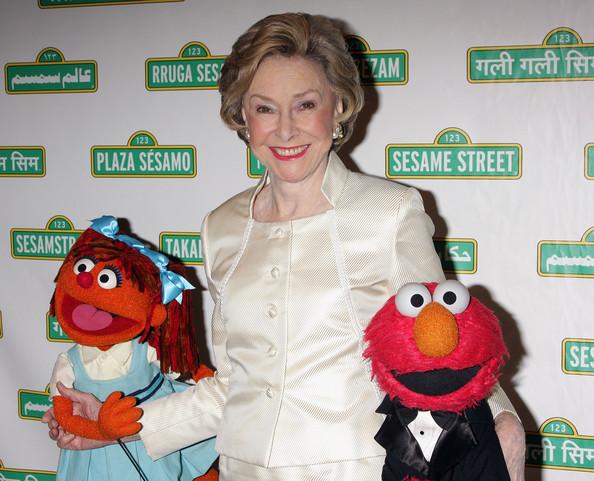 Joan Ganz Cooney (born November 30, 1929) is an American television producer. She is one of the founders of the Children's Television Workshop (now known as Sesame Workshop), and the organization famous for the creation of the children's television show Sesame Street. Cooney received her B.A. degree in education from the University of Arizona in 1951.

Cooney was inducted into the National Women's Hall of Fame in 1998, and the Television Hall of Fame.

She has been married to Peter G. Peterson, former U.S. Secretary of Commerce, since April 1980. Unable to have children of her own, she became a stepmother to Peterson's five children. She lives in New York City.

When someone from The US Steel Hour was left to go to WGBH in Boston, Mass., Cooney was shocked to learn that there was a new educational television movement. She instantly knew that she was meant for such an area of broadcasting, "it was like St. Paul on the highway." She wanted to become the publicist for what is now WNET. The head of the station told Cooney he had a publicist, but needed producers. After proving she knew the national issues of the time and pursuing the position through a series of notes, she became a producer for the station.
At the station, she had an initial income of USD$9000, down from USD$12000 at US Steel.
Her first program was Court of Reason, where two advocates debated, with an audience of three expert judges. The series was hosted by Columbia University's sociologist Robert Merton. All tapes, including those with notable guests like Malcolm X, no longer exist, as videotapes were reused (a standard industry practice at the time as videotape was expensive).
One show Cooney produced was called Cuba: Should America Change Its Policy? It featured was a roundtable discussion on the topic; guest President Kennedy "virtually declared World War III." The series, incidentally, debuted the week before the Cuban missile crisis.
Cooney's first documentary produced was A Chance at the Beginning. Through this, she met Tim Cooney, who would become her husband. The first episodes focused on adult literacy programs, teenage program Har U in Harlem, and Martin Doutch's program for four-year-olds in Harlem. Head Start was started within months of the third episode airing, and bought 125 print of the episode to use for teacher training.
Cooney produced Poverty, Anti-Poverty, and the World, for which she won a regional Emmy. The program invited multitudes of poor people into the studio, to confront the bureaucrats about the programming going on at the time. It was the very first teach-in, a format that became increasingly popular during the Vietnam War.
Cooney "gave a little dinner party" in 1966 with her then-husband Tim Cooney, Lloyd Morrisett (VP Carnegie Corporation) and his wife Mary, and Louis Friedman. Carnegie Corporation had been researching children's education; Morrisett was inspired by Friedman's speaking on how the medium of television was untapped for children.
Morrisett called Friedman and Cooney over to the Foundation's offices a few days later. During the meeting, Morrisett and Friedman agreed to create a study by channel Thirteen, to investigate what reactions would be to such a program. During the meeting, Morrisett mentioned that Cooney wouldn't be interested in such a project, as she was involved in public affairs programming. Cooney remembers yelling back, "Oh yes I would!" Friedman passed over her enthusiastic response, however, as he didn't want to lose her from his crew.
One day, Tim Cooney and Morrisett were having lunch together on a separate matter. Tim suggested to Joan that he would mention the project, and Joan agreed, knowing that with Friedman in the way she would never get involved. Morrisett eventually convinced Friedman that he wanted Cooney, who went on a three-month leave of absence from documentary production. Cooney toured the United States and Canada, talking to educators, researchers, and television producers. She wrote a paper based on this study, titled The Potential Uses of Television in Preschool Education. Cooney says that she always knew television could teach, as kids nationwide learned and sang ad jingles perfectly, but a paper was needed to make things conclusive and systematic.
Along with some unused components, the paper suggested the basic format of what was to become Sesame Street. The paper also proposed the creation of a children's television production company, to be part of channel Thirteen; Cooney couldn't suggest to her employer that such an organization might be independent. Harold Howe, U.S. Commissioner of Education, liked the findings of the report, and the Ford Foundation soon became interested in such a series, thanks to Macarthur Bundy.
Related Links:
Joan Ganz Cooney on Wikipedia
Sesame Workshop
√