Jo Hamilton (Musician/Innovator)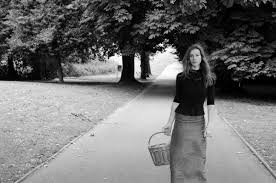 Playing the Air Piano, Jo Hamilton weaves brave new music from her lush voice and self-aware lyrics.

She is the premier artist of the Air Piano, an instrument that is played without being touched. Above a black lucite slab, infrared sensors detect the player's hand movements in 3D space, much like a virtual multitouch screen.
Unlike a theremin, in which the playspace around the instrument is one continuous area (hence its trademark rising and falling whooOOOOoo), the Air Piano has virtual keys and faders mapped into that space, allowing for clearly defined notes and samples.
Hamilton was the first musician to get a prototype from Air Piano inventor Omer Yosha, and has been exploring ever since. The instrument's range of tones and timbres and possibilities play off Hamilton's rich voice and thoughtful songwriting to make a softly compelling music that's just this side of otherworldly.

In this clip, she accompanies herself on guitar AND Air Piano:

Related Links:
Website
Facebook
YouTube
The 21 Amazing TEDWomen Speakers Of TEDGlobal 2011
Related Articles