Jessi Arrington on Wearing Nothing New
Jessi Arrington is a color-loving designer based in Brooklyn.
She is the founder and owner of WORKSHOP, a designer firm in Brooklyn.
Her favorite color is rainbow and her default answer is YES.
She's taught Design Fundamentals at Touro College and given guest lectures at NYU; she's a board member of AIGA/NY.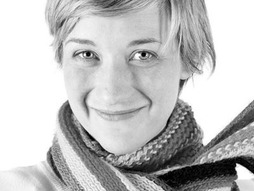 Before co-founding WORKSHOP, she carried out branding for Brooklyn Brewery, Tomato Records and Lion Brand Yarn under the direction of Milton Glaser.
She makes a hobby of wearing nothing new (except undies).
She blogs at LuckySoAndSo.com about design, consumption and color.
Susan notes: Thanks to TED for making TED Talks downloadable and embeddable, and for providing the biographical information that goes along with them.
Related links:
Speak Up, Speak Out, Take The Stage: The World Needs More TED Women
AWR TED Talk Favourite