Janna Levin (Physicist/Author/Artist)
Susan notes: Felisa Wolfe-Simon is one of 15 amazing women on stage at #TED2011. We're working hard to get TED to work harder on gender parity. ADD YOUR VOICE HERE.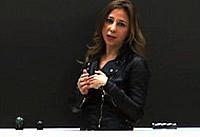 Janna Levin is a Professor of Physics and Astronomy at Barnard College of Columbia University. Her scientific research concerns the Early Universe, Chaos, and Black Holes.
Her second book – a novel, "A Madman Dreams of Turing Machines" (Knopf, 2006) – won the PEN/Bingham Fellowship for Writers that "honors an exceptionally talented fiction writer whose debut work...represents distinguished literary achievement..."
It was also a runner-up for the PEN/Hemingway award for "a distinguished book of first fiction".
She is the author of the popular science book, "How the Universe Got Its Spots: diary of a finite time in a finite space".
She holds a BA in Physics and Astronomy from Barnard College with a concentration in Philosophy, and a PhD from MIT in Physics.
Related Articles